Herausragende wissenschaftliche Leistungen an der TUHH mit Karl H. Ditze Preis ausgezeichnet
12.07.2018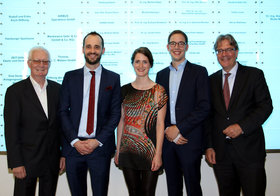 Innovativ, kreativ und wissenschaftlich fundiert: Am 11. Juli zeichnete die Karl H. Ditze Stiftung zum 19. Mal Absolventinnen und Absolventen der Technischen Universität Hamburg (TUHH) für ihre ausgezeichneten Leistungen aus. Übergeben wurden die mit insgesamt 4.500 Euro dotierten Preise von Rolf Dalheimer, Mitglied der Karl H. Ditze Stiftung, und TUHH-Präsident Ed Brinksma. Ausgezeichnet wurden die Masterarbeiten von Anne Rynek und Maximilian Stark sowie die Dissertation von Richard Bäumer.
Die Preisträger des Karl H. Ditze-Preises 2018
Anne Rynek für ihre Masterarbeit "Thermische Spannungsanalyse mit Hilfe der Finiten-Elementen-Methode zur Voraussage von thermisch induzierten Rissen durch Sonneneinstrahlung im Glas von Dreifach-Isolierglas" (1.250 Euro).
Aus der modernen Architektur sind großzügige Glasflächen nicht mehr wegzudenken. Doch neben optischen Ansprüchen müssen die gläsernen Fassaden auch Standards der Energieeinsparung erfüllen. Sogenannte Mehrfach-Isoliergläser, gefüllt mit Gas, senken Wärmedurchlässe sind aber aufgrund von Temperatureinwirkungen oft Rissbildungen ausgesetzt. Rynek entwickelte eine Methode, um das Risiko eines thermischen Glasbruchs besser abschätzen zu können.
Maximilian Stark für seine Masterarbeit "Information Optimum Design of Discrete LDPC Decoders for Irregular Codes" (1.250 Euro).
Ob beim Fernsehen via Satellit oder Surfen im heimischen WLAN – bei allen modernen Kommunikationssystemen bilden fehlerkorrigierende Kanalcodes die Basis für eine zuverlässige Übertragung von Daten. Das erfordert eine hohe Datenverarbeitung und damit Rechenleistung. Um diese zu minimieren hat Maximilian Stark in seiner Arbeit ein neuartiges Decodierverfahren entwickelt. Mit Fokussierung auf relevante Informationen konnte er den Rechenumfang stark verringern und das bei gleichbleibender Fehlerkorrekturleistung. Sein entwickelter Decoder eignet sich daher gerade für Anwendungen in vernetzten Fabriken, Autos und Häusern, wo viele Geräte möglichst zuverlässig, energieeffizient und mit begrenzter Rechenleistung kommunizieren müssen.
Richard Bäumer für seine Dissertation "Active vibration control using the centrifugal forces of eccentrically rotating masses" (dotiert mit 2.000 Euro).
Bauteile und Strukturen sind oftmals Schwingungen ausgesetzt, die häufig zu schwerwiegenden Schädigungen führen. Um diese zu vermeiden beschäftigte sich Richard Bäumer in seiner Dissertation mit einem aktiven Dämpfungssystem. Der sogenannte Doppelwuchtrotor führt im Vergleich zu anderen Dämpfungssystemen zu einer harmonischen Kontrollkraft sowie zu einem reduzierten Energie- und Leistungsbedarf. Die Dissertation "hat der Promovend selbstständig, mit beeindruckender Beharrlichkeit und Vollständigkeit und mit großem Ideenreichtum gemeistert und erbracht", lobt Laudator Professor Uwe Starossek vom Institut für Baustatik.
Karl H. Ditze (1906 – 1993) war persönlich haftender Gesellschafter der Hamburger rotring-Werke Riepe KG. Als erfolgreicher Unternehmer und Hamburger Bürger gründete er mit 73 Jahren die Karl H. Ditze Stiftung, um sozialen und gemeinnützigen Zwecken Hilfe zu leisten. Besondere Herzensangelegenheit war ihm die Förderung von vier Hamburger Hochschulen, mit besonderem Augenmerk auf das Ingenieurwesen. So werden in seinem Sinne an der TUHH aus Mitteln der Ditze Stiftung Stipendien, Integrationsmaßnahmen für ausländische Studierende, Veranstaltungen zur Sicherung des Ingenieurnachwuchses sowie studentische Projekte unterstützt.
---
TUHH - Public Relations Office
Franziska Trede
E-Mail: franziska.trede@tuhh.de
Phone: +49 40 428 78 3458