Internationaler Workshop zu reaktiver Blasenströmung
Internationale Expertinnen und Experten zu Gast an der TUHH
22.06.2018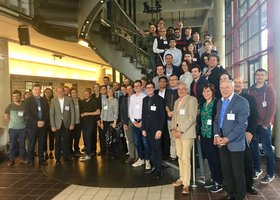 Das Institut für Mehrphasenströmungen (IMS) der Technischen Universität Hamburg (TUHH) ist vom 20. bis 22. Juni 2018 Gastgeber eines internationalen Workshops zum Thema reaktive Blasenströmungen. Bereits zum zweiten Mal richtet das IMS diesen Workshop in enger Kooperation mit dem französischem Forschungsverbund FERMaT aus Toulouse aus. Unter dem Titel "Non-Invasive Experimental Tools and Numerical Methods for the Investigation of Non-Reactive and Reactive Gas-Liquid Flows" treffen sich 45 Wissenschaftlerinnen und Wissenschaftler aus Frankreich, den Niederlanden und Deutschland. Sie werden der Frage nachgehen, wie chemische Reaktionen in Prozessen so beeinflusst werden können, dass hochwertigere Produkte mit geringerem Energie- und Ressourcenbedarf produziert werden können. Dieser Workshop gibt den Teilnehmenden die Möglichkeit, neue Resultate zu diskutieren und aktuelle Informationen über Messtechniken, Modelle und Numerische Methoden auszutauschen.
Das Symposium wird durch die Deutsche Forschungsgemeinschaft (DFG) und die French National Research Agency (ANR) finanziell unterstützt und findet im Rahmen des DFG-Schwerpunktprogrammes "Einfluss lokaler Transportprozesse auf chemischen Reaktionen in Blasenströmungen" statt, welches an der TUHH von Prof. Dr. Michael Schlüter koordiniert wird.
"Bereits der erste Workshop 2016 in Toulouse war ein großartiger Erfolg aus dem viele Kooperationen und neue Projektideen hervorgegangen sind. Wir erhoffen uns von diesem Workshop eine weitere Vernetzung französischer und deutscher Wissenschaftlerinnen und Wissenschaftler auf diesem Fachgebiet und nachhaltige internationale Kontakte für unsere Doktorandinnen und Doktoranden. Besonders freuen wir uns über die Teilnahme der niederländischen Kolleginnen und Kollegen, um die Erkenntnisse aus unserem Schwerpunktprogramm über die deutsch/französische Kooperation hinaus bekannt zu machen." sagt Schlüter.
Nähere Informationen zum Schwerpunktprogramm "Reaktive Blasenströmungen" unter www.dfg-spp1740.de
Kontakt:
Jeanette Felsberg
Koordinationsassistenz DFG-Schwerpunktprogramm 1740
Institut für Mehrphasenströmungen
Technische Universität Hamburg
Eißendorfer Straße 38 (O), Raum 113
21073 Hamburg
Tel.: +49 40 42878 2603
E-Mail: jeanette.felsberg@tuhh.de
Pressekontakt
Franziska Schmied
Volontärin
Presse- und Öffentlichkeitsarbeit
Technische Universität Hamburg (TUHH)
Schwarzenbergstrasse 93
21073 Hamburg
Tel + 49 40 428 78 3558
Fax + 49 40 428 78 2366
E-Mail: franziska.schmied@tuhh.de
www.tuhh.de
---
TUHH - Public Relations Office
Rüdiger Bendlin
E-Mail: bendlin@tuhh.de
Phone: +49 40 428 78 3330