TUHH bei THE-Ranking der weltweit jüngsten Universitäten unter Top 100
07.06.2018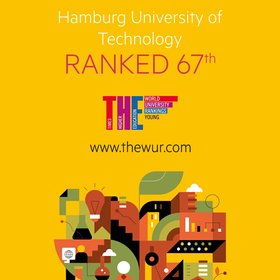 Aus dem Stand unter die besten der Welt: Die Technische Universität Hamburg (TUHH) nahm erstmalig am Hochschulranking "Times Higher Education (THE) Young University Rankings 2018" teil und belegte Platz 67 unter 250 teilnehmenden Universitäten aus 55 Ländern. Das Ranking bildet eine Rangliste der weltweit besten Universitäten, die jünger als 50 Jahre sind und wird vom britischen Fachmagazin Times Higher Education (THE) herausgegeben. Weltweit im Ranking führend ist die Hong Kong University of Science and Technology.
Im Young University Ranking werden Universitäten in den fünf Kategorien Qualität der Lehre, Qualität der Forschung, Zitierhäufigkeit, internationale Ausrichtung und Drittmitteleinkommen nach 13 Leistungsindikatoren bewertet. In der Kategorie "Drittmittel aus der Industrie" erlangte die TUHH weltweit den sechsten Platz unter allen Teilnehmenden. Im Vergleich mit den besten jungen Universitäten in Deutschland sicherte sie sich den ersten Platz. Stark schnitt die TUHH auch in der Kategorie Lehre ab, sie positionierte sich hier weltweit auf Platz 26. In der Kategorie Forschung befindet sie sich unter den Top 100.
"Ich freue mich, dass wir bei der ersten Teilnahme zu den besten 100 jungen Universitäten der Welt zählen. Dies zeigt, dass die TUHH mit ihrem klaren Forschungsprofil und ihrer sehr guten Lehre eine attraktive Universität und eine wichtige Partnerin für die Wirtschaft ist", sagt TUHH-Präsident Ed Brinksma.
Times Higher Education (THE) Young University Rankings 2018 https://www.timeshighered … young-university-rankings
---
TUHH - Public Relations Office
Jasmine Ait-Djoudi
E-Mail: pressestelle@tuhh.de
Phone: +49 40 428 78 3458