TUHH- DECHEMA Studierendengruppe (DEST) in Magedeburg
29.05.2018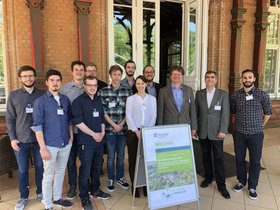 Die DECHEMA Studierendengruppe (DEST) der Technischen Universität Hamburg (TUHH) hat an der DECHEMA Himmelfahrtstagung vom 7.5. bis zum 09.05.2018 in Magdeburg teilgenommen. Das Thema der Tagung war: "Heterogeneities – A key for understanding and upscaling of bioprocesses in up- and downstream".
In Vorträgen aus Akademie und Industrie erhielten die Studierenden Einblicke in aktuelle Trends und Entwicklungen in der Biotechnologie. Darüber hinaus erhielten die Studierenden Möglichkeit des Austauschs mit Industrievertretern zu Themen wie Jobeinstieg, Karriere oder allgemeinen Fragen zu den jeweiligen Unternehmen. Auch bei der Poster-Party und der Scientific Award Ceremony war viel Raum für Diskussionen und Gespräche.
Die DEST wurde unterstützt von der BASF und der DECHEMA.
---
TUHH - Public Relations Office
Jasmine Ait-Djoudi
E-Mail: pressestelle@tuhh.de
Phone: +49 40 428 78 3458