Hamburg meets Japan: Dr. Fumikazu Morimura is new visiting professor at TUHH
25.04.2018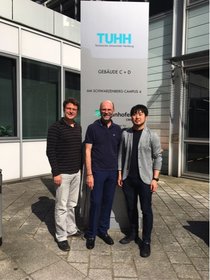 Professor Fumikazu Morimura, a young Associate Professor at Kobe University in Japan, has been a visiting scientist at TUHH's Institute for Technology and Innovation Management since April 3. 2018. Mr. Morimura will be working at the TUHH for a total of 18 months at TUHH.
Dr. Morimura is associate professor of marketing at Kobe University. His research field is service marketing, consumer behavior, technology management, and retail marketing. His current research focuses on consumer needs and impact factors on the continuous use of innovations in the areas of Home Energy Management Systems (HEMS) and Health-Care IoT Systems. His research investigates for example how different types of consumer ambitions and targets influence the relationship between the ability to adopt and continuously use innovations.
TUHH and Kobe University have very recently signed a collaboration agreement, and the visit of Professor Morimura is an important milestone in strengthening the ties between both Universities.
More information available under Kobe University https://www.b.kobe-u.ac.jp/en/staff/morimura.html or TUHH-TIM www.tuhh.de/tim.
---
TUHH - Public Relations Office
Franziska Trede
E-Mail: franziska.trede@tuhh.de
Phone: +49 40 428 78 3458