Tastatur statt Fußball: TUHH-Studierende vertreten Hamburg in bundesweiter Uni-Liga im eSport
20.04.2018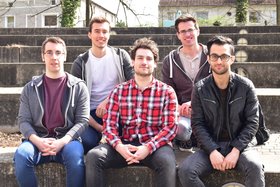 Sport und Computerspiele – LoL! Studierende der Technischen Universität Hamburg (TUHH) vertreten Hamburg in der ersten Liga der "University eSports Germany" (UEG). Am 22. April fällt zum sechsten Mal der Startschuss, gespielt wird "League of Legends" (LoL). Das Team "TUHH GamING" tritt im Wettkampf gegen die elf besten deutschen Hochschulteams an.
Krieger, Magier und Assassine: "League of Legends" LoL gehört zu den beliebtesten Computerspielen im eSport und ist eines der Wettbewerbsspiele in der UEG. "Das teambasierte Strategiespiel wird im Modus fünf gegen fünf gespielt. Ziel ist es, die Basis der Gegner zu zerstören", erklärt Christian Puls alias Chr1Z, der Gründer von "TUHH GamING". In der sogenannten Kluft der Beschwörer wird gekämpft, erobert und im besten Falle gesiegt. Im Wintersemester 2016/17 erspielten sich die Studierenden des Teams "TUHH GamING" mit LoL bereits den ersten Platz in der ersten Liga des UEG und das soll auch dieses Semester wieder gelingen.
eSport, der professionelle Wettstreit in Computerspielen, wird immer populärer. Doch was haben solche Wettkämpfe in Spielen wie LoL mit Sport zu tun? Teamgeist, Konzentration und eine gute Hand-Auge-Koordination: Wer ein Virtuose an der Tastatur werden will, muss trainieren. "Das ist vergleichbar mit Profi-Schach", meint Puls. "Dabei kommt es manchmal sogar zu Sportverletzungen wie Gelenkschmerzen, da helfen Spielern dann Dehnübungen und Rotlichtlampen". Die Spiele dauern oft bis zu 60 Minuten, Training und eine gute Kondition sind Pflicht.
Vom 22. April bis 1. Juli kann die UEG in LoL im Livestream unter www.twitch.tv/tuhhgaming mit verfolgt werden. Das Finale der Liga wird live ausgetragen. Wer hier als Sieger vom PC geht wird automatisch zur europäischen Universitätsliga zugelassen und spielt dann gegen Teams aus ganz Europa, wie zum Beispiel Portugal, England oder Frankreich.
See also: https://bit.ly/2HIGF1D
---
TUHH - Public Relations Office
Franziska Trede
E-Mail: franziska.trede@tuhh.de
Phone: +49 40 428 78 3458