Hamburg Airport awards scholarship for Double Degree TUHH and NIT
09.02.2018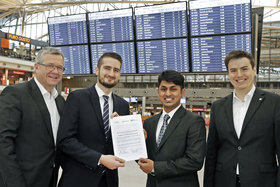 Hamburg Airport is awarding a scholarship to study at the NIT Northern Institute of Technology Management in Hamburg. At the NIT, Master students can complete an MBA/MA in Technology Management in parallel to their MSc at the Hamburg University of Technology (TUHH). Hamburg Airport supports the combination of engineering and management and covers the tuition fees for a student. The next NIT course starts in October 2018. The application portal has now opened.
As a scholarship recipient, you will gain insight into many different areas
Supradeep Chikaballapur Manjunath is currently a scholarship recipient from Hamburg Airport. Born in India, he has been studying an MBA degree in Technology Management at NIT since 2016 and an MSc degree in Information and Communication Systems at the TUHH at the same time. A combination he recommends.
Supradeep, why should prospective students apply for a scholarship from your sponsor company?
The Airport in itself is a mini city and to keep it running many teams must work together. In such a big organization, one quickly understands the importance of information and project management. It is a great experience.
What is the application process?
Applicants make the shortlist based on the statement of purpose and CV. Shortlisted candidates then receive an invitation for a personal interview.
How's the relationship with your sponsor company?
Really good. I have been in constant contact as my internship was followed up with working student opportunity.
What do you enjoy most at your sponsor company?
Our team and the work we do. The team has a great blend of youth and experience with a whole array of responsibilities ranging from Marketing to PMO. As students, we get to learn multiple aspects of project management.
Why should one apply for the NIT's double degree program?
We stand a step ahead in the market as we not only learn the technology but the management skills too.
What do you enjoy most at the NIT?
NIT is a family. An opportunity to stay and learn with an ambitious set of people can help bring out the true potential. Amidst all of this, we enjoy the right balance of studies and fun.
Apply now for the Hamburg Airport scholarship
Students studying Information and Communication Systems, Computer Science and Microelectronics & Microsystems have a particularly good chance of getting a scholarship from the airport. However, students from other disciplines are also invited to apply. It is important to have an interest in digitization, Internet of Things, and Big Data.
To apply for the scholarship at Hamburg Airport, please mention this in your statement of purpose. Please apply as soon as possible to increase your chances of getting a scholarship.
Further information on the application at NIT: https://www.nithh.de/admissions/double-degree-international/
---
TUHH - Public Relations Office
Jasmine Ait-Djoudi
E-Mail: pressestelle@tuhh.de
Phone: +49 40 428 78 3458