NIT Students Develop Parking Aid for Aircraft
25.01.2018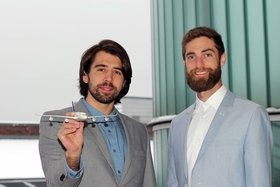 NIT students Alexander Kasinec and Andrew Moakes want to achieve great things. With their mobile sensor "Flugilo", moving aircraft becomes quick and safe. The small device could save the aircraft industry millions.
Flight safety is a top priority in Germany. Airlines must maintain their aircraft regularly. Every six to ten years every aircraft is dismantled and overhauled. The narrow aircraft hangars present a challenge. Collisions with other airplanes, vehicles or walls are a daily risk. "The aircraft industry has to spend several million euros a year on repairs caused by this type of damage. We at Flugilo believe that we can reduce these costs significantly with our sensors," explains Andrew Moakes, co-founder of Flugilo.
Aircraft Parking with Mobile Sensors
Until now, it has been very costly to move an airplane. Ground personnel walk under the wings and along the stern, directing the tug driver into the parking position. Parking can take up to 60 minutes, involving high personnel costs and risk for human error caused collosions. This process is exactly what Alex and Andrew want to change with their start-up Flugilo. The sensors attach to the wings using suction cups. Similar to the parking aid of a car, the device shows whether the aircraft is too close to an object. The idea is that a set of sensors will pay for themselves within a year, representing a major saving compared to the previous repair and personnel costs.
Steep start for Flugilo
The idea of the students has already gained some attention. At this year's Uni-Pitch, a joint event of Hamburg's universities for startups, they reached the final round. They have tested their first iteration with an industry partner, gaining positive feedback and valuable lessons. To further develop their next prototype, Alex and Andrew are looking for investors.
About the Founders
The founders of Flugilo got to know each other at the NIT Northern Institute of Technology Management. The two Americans are studying Technology Management (MBA) at the Technical University of Hamburg in parallel to an MSc. "Andrew and I already have some experience in product development. When we met, we quickly realized that we could work well together. That's why we decided to launch Flugilo," says 26-year-old Alex.
Startup Environment at the NIT Northern Institute of Technology Management
At the NIT Northern Institute of Technology Management students can start their own start-up. In the specialization module "E-Track: Entrepreneurial Management" they are familiarized with all relevant business tools and concepts. The e-track covers the entire process from finding a business idea to resource allocation, sales and marketing.
Text: Alina Gruhn
---
TUHH - Public Relations Office
Jasmine Ait-Djoudi
E-Mail: pressestelle@tuhh.de
Phone: +49 40 428 78 3458