Double-Degree Program TUHH and NIT: Companies award scholarships
19.01.2018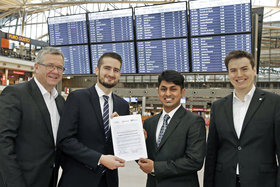 Two Master's degrees at the same time: The students of the NIT Northern Institute of Technology Management want more than "just" engineering sciences. You will complete a Mas- ter of Science degree at the Hamburg University of Technology (TUHH) and a Master in Technology Management at the NIT. Well-known companies support this unique combina- tion and award scholarships to select candidates.
The Master's program at NIT prepares engineers for future challenges as potential managers, entrepreneurs, and consultants. During the two-year double degree course, students en- hance their engineering expertise with well-founded management education. At the NIT, students from all over the world learn together, making NIT studies an exceptional intercul- tural experience. All courses are in English, focusing on project-based learning and team- work. A mixture that is also well received by companies.
NXP Semiconductors has been supporting the NIT for many years and regularly awards scholarships to NIT students. "Particularly important to us is enthusiasm", says Georg Menges, Director Cooperative Innovation Projects of NXP Semiconductors Germany GmbH. "Especially in the case of innovative topics for which we are particularly fond of involving the students, it is important to be enthusiastic and actively contributing. This will benefit both the team and the topic."
During their studies, NIT students benefit from interactive and personal instruction, interna- tional lecturers and an intercultural learning atmosphere. The varied use of case studies, simulations, excursions and a practical internship in industyr, as well as presentations by various guest speakers, guarantee the successful combination of theory and practice.
The following companies are expected to award scholarships this year: ArcelorMittal Ham- burg, Hamburg Airport, Johnson & Johnson, NXP, Procter & Gamble, and tesa.
The English-language program begins at the beginning of October, and the international students start early with an intensive German course in September 2018. Application re- quirements are a bachelor's degree in engineering or IT subjects and a very good command of English.
---
TUHH - Public Relations Office
Jasmine Ait-Djoudi
E-Mail: pressestelle@tuhh.de
Phone: +49 40 428 78 3458