Haspa LotterieSparen Donates EUR 3,000 to the NIT
01.12.2017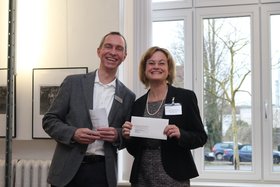 Living in style at the NIT. The NIT Northern Institute of Technology Management is delighted to report a donation of EUR 3,000. The money from the Haspa LotterieSparen fund is being spent on new equipment for the NIT's communal kitchens and on replacing worn-out furniture in its student hostel. NIT CEO Verena Fritzsche accepted the check with thanks in the Harburger Kulturwerkstatt on November 29.
New Furniture for NIT Kitchens
Many people will be unaware that 65 students live on the Hamburg University of Technology campus. On the fourth, fifth and sixth floors of the NIT Building engineering students from all over the world live in studio apartments. In their leisure time the students share cooking Indian curries, American pancakes or, like students everywhere, noodles. For 16 years the NIT has been a seat of learning and of shared living, and over time some of the furniture is showing signs of age. It is now being replaced. "With the Haspa LotterieSparen money we can now renovate the apartments and the communal kitchens a little," Verena Fritzsche says. "The kitchens are very important for the student community. They get to know each other while cooking together and learn a lot about culinary culture in other countries. And we naturally want our students to feel at home in their apartments."
"Lottery Savings" Accounts with Haspa
Haspa lottery savers buy one or more tickets per month. Tickets cost five euros each. Four euros is saved, 75 cents is the price of the lottery ticket and 25 cents goes to a good cause. More than 500 clubs and institutions in and around Hamburg have benefited from donations this year. Kindergartens, facilities for senior citizens, school societies, sport clubs and many other local projects benefit from LotterieSparen funding.
Anyone who is interested can "lottery save" at any branch of the Haspa savings bank or online at www.haspa.de/lotteriesparen. For more about Haspa's social commitment visit www.gut-fuer.hamburg.
---
TUHH - Public Relations Office
Jasmine Ait-Djoudi
E-Mail: pressestelle@tuhh.de
Phone: +49 40 428 78 3458