Auszeichnung für TUHH-Professor An-Ping Zeng
07.11.2017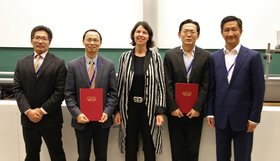 Der Leiter des Instituts für Bioprozess- und Biosystemtechnik der Technischen Universität Hamburg (TUHH) ist für seine exzellente akademische Lehrleistung eines "Doktorvaters" mit dem "Award for Excellent Supervisor of Chinese PhD Students" geehrt worden. Vergeben wird dieser gemeinsam von der Gesellschaft Chinesischer Chemiker und Chemieingenieure in der Bundesrepublik Deutschland?e. V. (GCCCD) und der Gesellschaft Deutscher Chemiker (GDCh).
Die feierliche Ehrung erfolgte am Oktober 2017 in Rahmen der Deutsch-Chinesischen Tagung der Gesellschaften zum Thema "Design, Synthesis and Application of New Materials" an der Universität Hamburg. Die Auszeichnung wurde von GDCh-Präsidentin Prof. Dr. Thisbe K. Lindhorst und dem GDCCCD-Vorsitzenden Dr. Ronbian Wang, in Anwesenheit des Award-Sponsors Dr. Dahai Yu, überreicht. Zuvor hielt Professor An-Ping Zeng in Form einen Vortrags zu "Bioeconomy and New Bioproduction Systems for Chemicals" berichtet.
Der Preis würdigt die hervorragende Betreuung von Doktoranden und Nachwuchswissenschaftlerinnen und Nachwuchswissenschaftlern. Viele der chinesischen Doktoranden von Professor An-Ping Zeng wurden für ihre Doktorarbeit ausgezeichnet und fanden im Anschluss an ihre Promotion einen Einstieg ins Berufsleben. Darüber hinaus soll mit dieser Initiative die akademische Zusammenarbeit zwischen China und Deutschland weiter gefestigt und intensiviert werden.
---
TUHH - Public Relations Office
Jasmine Ait-Djoudi
E-Mail: pressestelle@tuhh.de
Phone: +49 40 428 78 3458