Zwei TUHH-Doktoranden mit Best Poster-Award ausgezeichnet
13.10.2017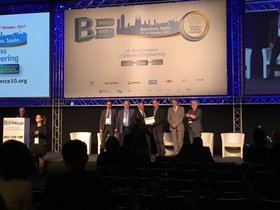 Im Rahmen des World Congress of Chemical Engineering WCCE10, der Welttagung der Verfahrenstechnik, sind die Doktoranden Eugen Diez und Torben Egger von der Technischen Universität Hamburg (TUHH) mit dem Best Poster Award geehrt worden.
Der Arbeit von Eugen Diez "Spray granulation in a multi-staged continuous fluidized bed: Influencing the product properties and particle transport in a horizontal fluidized bed" wurde aus insgesamt 62 Poster-Beiträgen ausgewählt. Das darin vorgestellte Projekt wird am TUHH-Institut für Feststoffverfahrenstechnik und Partikeltechnologie von Professor Stefan Heinrich betreut: Wie wird Waschpulver so fein körnig? Wie können Arzneimittel den Wirkstoff noch gezielter freisetzen? Warum funktioniert die Babywindel so gut? In der Arbeit wird der Fragestellung nachgegangen, wie hochwertige, frei fließende und staubarme körnige Feststoffe mit verbesserten Gebrauchseigenschaften energie- und umweltschonend hergestellt werden können, die im täglichen Leben oder in zahlreichen Industrien Anwendung finden. Zur Lösung dieser Aufgabe wird ein skalenübergreifender Ansatz verfolgt, der experimentelle Untersuchungen mit unterschiedlichen Modellierungsansätzen und einer systemdynamischen Analyse einer kontinuierlichen Wirbelschicht-Sprühgranulation kombiniert. Die vorgestellte Arbeit entstand innerhalb des DFG-Schwerpunktprogrammes 1679 im Rahmen gemeinsamer Forschungen mit dem Lehrstuhl für Thermische Verfahrenstechnik (Prof. Evangelos Tsotas) sowie dem Lehrstuhl für Automatisierungstechnik/Modellbildung (Prof. Achim Kienle) der Universität Magdeburg. Der Best Poster Award wurde auf der Untertagung PARMAT "Processing, Handling and Characterization of Particulate Materials" vergeben.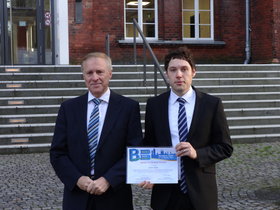 Torben Egger, Doktorand am TUHH-Institut für Prozess- und Anlagentechnik, setzte sich mit seinem Beitrag "Modeling and Experimental Validation for Reactive Dividing Wall Columns – Which Model ist the Right one?" gegen 65 Beiträge durch und erhielt den Preis für das beste Poster in der Kategorie "Prozessintensivierung" auf der Untertagung International Process Intensification Conference. Das darin vorgestellte Projekt wird am TUHH-Institut für Prozess- und Anlagentechnik von Professor Georg Fieg betreut: Wie kann man den hohen Energiebedarf der Produktaufbereitung und damit verbunden hohe Treibhausgasemissionen in der Chemieindustrie reduzieren? Wie kann man durch den Einsatz von Biotechnologie bereits das Entstehen der später abzutrennenden Abfallprodukte vermeiden? In der Arbeit wird untersucht, wie durch die Kombination von Biokatalysatoren mit integrierten Trennapparaten beide Ziele durch den Einsatz neuer, nachhaltiger Produktionskonzepte erreicht werden können. In einem ganzheitlichen Ansatz der Modellierung und experimentelle Untersuchungen im Technikumsmaßstab kombiniert, wird so ein innovativer Apparat, die enzymkatalysierte reaktive Trennwandkolonne, entwickelt und der stabile abfallproduktfreie Betrieb nachgewiesen.
Die WCCE ist eine alle vier Jahre stattfindende führende internationale Konferenz der Verfahrenstechnik und Chemietechnik. Hier treffen sich über 3400 Teilnehmerinnen und Teilnehmer aus Wissenschaft und Wirtschaft, um Erfahrungen auszutauschen, aktuelle Fragestellungen zu diskutieren und neue wissenschaftliche Trends zu identifizieren.
---
TUHH - Public Relations Office
Jasmine Ait-Djoudi
E-Mail: pressestelle@tuhh.de
Phone: +49 40 428 78 3458