Internationale Logistik-Konferenz HICL an der TUHH
11.10.2017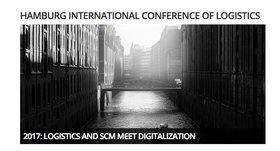 Zum 11. Mal findet die Hamburg International Conference of Logistics (HICL) vom 12. bis 13. Oktober 2017 an der Technischen Universität Hamburg (TUHH) zum Thema "Logistic and Supply Change Management Meets Digitalization" statt. Erwartet werden rund 80 Forscher und Praktiker aus über 10 Ländern, um gemeinsam die neuesten Entwicklungen im Bereich Supply Change Management, Logistik und Digitalisierung zu diskutieren.
Das Supply Change Management, also der Aufbau und die Verwaltung integrierter Logistikketten, und die Logistik sind ein sehr dynamisches Feld, das Akteure ständig neuen operativen Herausforderungen und geänderten Fragestellungen gegenüberstellt. Seit 2006 initiiert das Institut für Logistik und Unternehmensführung der TUHH diese Jahreskonferenz, die internationale Forscherinnen und Forscher, Fachleute und Branchendenker aus der Praxis zusammenbringt, um neue Erkenntnisse, Konzepte und Methode zu analysieren und neueste Lösungen und Prozesse zu bewerten.
Organisiert wird die Konferenz von den Professoren Wolfgang Kersten und Thorsten Blecker, Institut für Logistik und Unternehmensführung sowie Carlos Jahn, Institut für Maritime Logistik, und Christian Ringle, Institut für Personalwirtschaft und Arbeitsorganisation.
---
TUHH - Public Relations Office
Jasmine Ait-Djoudi
E-Mail: pressestelle@tuhh.de
Phone: +49 40 428 78 3458