Studierenden-Austausch mit der UC Berkeley und der University of Waterloo geht in die nächste Runde
26.07.2017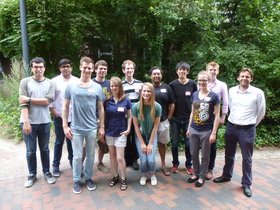 Der Studierenden-Austausch zwischen der TUHH und den nordamerikanischen Universitäten University of California, Berkeley und University of Waterloo wird auch in diesem Jahr fortgesetzt.
Aktuell besuchen vier Studierende der UC Berkeley und fünf Studierende der University of Waterloo die TUHH für die Dauer von rund vier Monaten. Im Gegenzug werden ab August die TUHH Master-Studierenden Hendrik Hansen (Mechatronik), Ruhullah Najafi (Informatik-Ingenieurwesen) und Gerrit Schöttler (Theoretischer Maschinenbau) zwei Semester am Department of Mechanical Engineering der UC Berkeley verbringen. Die University of Waterloo werden dieses Jahr die TUHH Master-Studierenden Lina Erle, Selma Kistler, Saskia Meyer (alle Bauingenieurwesen) und Stefan Dübel (Informatik-Ingenieurwesen) für ein Semester besuchen.
Am Institut für Mechanik und Meerestechnik fand vergangene Woche ein Treffen der Incoming- und Outgoing-Studierenden statt. Auch dabei waren im Rahmen einer DAAD Alumni-Fördermaßnahme viele Alumni der Austauschprogramme. So wurden Erfahrungen aus und Erwartungen an das Auslandsstudium intensiv diskutiert.
Sowohl die University of Waterloo als auch die University of California, Berkeley zählen zu den weltweit führenden Universitäten in Nordamerika. Die Partnerschaften der TUHH mit den beiden nordamerikanischen Universitäten bestehen seit über 20 Jahren und werden vom DAAD im Rahmen des ISAP-Programmes umfangreich durch Stipendien gefördert. Zuletzt wurde der TUHH im Frühjahr eine DAAD Unterstützung für zwei weitere Austauschjahre bewilligt, mit welcher der Aufenthalt der TUHH-Studierenden in Nordamerika finanziert wird.
"Ein lebendiger Austausch in beide Richtungen ist vital für diese Programme", so der Leiter der Austauschprogramme Prof. Robert Seifried und merkt weiter an: "Der zweiseitige Austausch ist einerseits eine klare Bereicherung des universitären Lebens an der TUHH, anderseits ist ohne diese Zweiseitigkeit keine Förderung durch den DAAD zu erhalten". Die Gegenschiene zum Besuch von Studierenden aus Berkeley und Waterloo wurde in den letzten Jahren aufgebaut. Der Aufenthalt der Studierenden aus Berkeley konnte in den letzten Jahren durch Spenden von Cylad Consulting finanziert werden. Dieses großzügige Engagement kam auf Initiative von Dr. Steffen Petersen zustande, der Alumnus dieser Austauschprogramme ist. Darüber hinaus bieten TUHH-Institute aus mehreren Dekanaten Forschungspraktika für Studierende aus Waterloo an.
Im nächsten Jahr haben TUHH-Studierende wieder die Möglichkeit, sich für diesen Austausch zu bewerben. Der ideale Zeitpunkt für die Bewerbung ist das 5. Bachelor-Semester oder das erste Master-Semester. Hierzu wird es zu Beginn des Wintersemesters wieder eine Informationsveranstaltung geben. Weitere Informationen zum Austauschprogramm finden sich unter der Webseite http://www.tuhh.de/mum/auslandsstudium.html des Instituts für Mechanik und Meerestechnik.
Ansprechpartner Austauschprogramme:
Daniel Dücker
ISAP Programmkoordinator UC Berkeley und U Waterloo
Institut für Mechanik und Meerestechnik
Tel: 040 428 78 4896
---
TUHH - Public Relations Office
Rüdiger Bendlin
E-Mail: bendlin@tuhh.de
Phone: +49 40 428 78 3330