TUHH: Karl H. Ditze-Preis für herausragende Leistungen verliehen
06.07.2017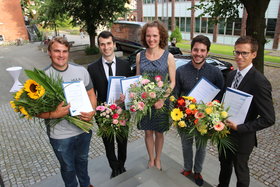 Interdisziplinär, fundamental, richtungsweisend: Bereits zum 18. Mal zeichnete die Karl H. Ditze Stiftung besonders talentierte Nachwuchswissenschaftlerinnen und -wissenschaftler der Technischen Universität Hamburg (TUHH) aus. Die Preise wurden vom Vorstandsvorsitzenden der Stiftung Rüdiger Schramm sowie von TUHH-Präsident Professor Garabed Antranikian am 5. Juli 2017 feierlich übergeben. Ausgezeichnet wurden Arbeiten von Svenja Otto, Yaroslav Gevorkov und Christian Klingelhöller. Weitere Preise für herausragendes Engagement nahmen Schiffbau-Student Till Rummenhohl sowie die studentische Arbeitsgemeinschaft RobotING@TUHH entgegen.
Die Preisträger des Karl H. Ditze-Preises 2017:
Svenja Otto für ihre Masterarbeit "Nonlinear Trajectory Control of a Gantry Cran" (dotiert mit 1250 Euro)
Zweidrittel der Schiffsgüter werden in Containern transportiert. Das effiziente, immer schnellere und sichere Be- und Entladen von Containerschiffen verlangt nach neuartigen Regelungskonzepten. "In der Masterarbeit konnte erstmals die Anwendung einer neuen Modellinversionsmethode in Echtzeit bewiesen und die praktische Anwendbarkeit in Experimenten gezeigt werden", lobt Professor Robert Seifried vom Studiendekanat Maschinenbau. "Dies ist ein deutlicher Fortschritt zu den bisherigen in der Literatur vorhandenen Ergebnissen und ein eigenständiger fundamentaler Beitrag."
Yaroslav Gevorkov für seine Masterarbeit "Real-time image analysis and data compression in high throughput X-ray diffraction experiments" (1250 Euro)
Thema der Arbeit war es, das "Big Data"-Problem des neuen European XFEL Femtosekunden-Röntgenlasers zu reduzieren. "Die Masterarbeit enthält zahlreiche innovative Ansätze und ist insbesondere hinsichtlich der Analyse im dreidimensionalen Raum richtungsweisend", hebt Professor Rolf-Rainer Grigat vom Studiendekanat Elektrotechnik, Informatik und Mathematik hervor. "Die Arbeit ist zudem hochaktuell: Demnächst beginnen am XFEL die Messungen an Molekülen und Mikrokristallen, bei denen die Resultate ihren vollen Wert in der Praxis entfalten werden."
Dr.-Ing. Christian Klingelhöller für seine Dissertation "Trennschleifen von CFK-Schalenbauteilen mit räumlich gekrümmten Konturen" (2000 Euro)
CFK-Schalenbauteile tragen zur ressourcenschonenden Mobilität bei und gewinnen etwa im Flugzeugbau und in der Elektromobilität wachsende Bedeutung. Jedoch ist ihre Fertigung sehr aufwendig. "Herr Dr. Klingelhöller hat Themen aus sehr unterschiedlichen technischen Fachgebieten in Tiefe wissenschaftlich bearbeitet und eine neuartige Trennschleifentechnologie entwickelt, die sich für räumlich gekrümmte Bauteilkonturen eignet und sich durch deutlich verringerten Werkzeugverschleiß auszeichnet", beschreibt Professor Wolfgang Hintze vom Studiendekanat Maschinenbau. "Die besondere wissenschaftliche Leistung fand ihren Ausdruck auch in drei peer-reviewten Veröffentlichungen sowie vier Patentanmeldungen, von denen zwei bereits erteilt wurde
In der Kategorie "Innovative studentische Projekte und Initiativen" erhalten Till Rummenhohl für seinen außergewöhnlichen Einsatz zur Rettung von Flüchtlingen im Mittelmeer (500 Euro) sowie die studentische AG RobotING@TUHH (1000 Euro) für ihr herausragendes Engagement zur Verbindung von Theorie und Praxis im Studium der TUHH.
Die Karl H. Ditze Stiftung
Karl H. Ditze (1906 – 1993) war persönlich haftender Gesellschafter der Hamburger rotring-Werke Riepe KG. Im Alter von 73 Jahren hat der erfolgreiche Hamburger Kaufmann und Mäzen sein Gesamtvermögen in die Karl H. Ditze Stiftung eingebracht. Die Stiftung fördert vier Hamburger Hochschulen und unterstützt gemeinnützige und soziale Projekte. An der TUHH werden aus Mitteln der Ditze Stiftung Stipendien, Integrationsmaßnahmen für ausländische Studierende, Veranstaltungen zur Sicherung des Ingenieurnachwuchses sowie studentische Projekte unterstützt.
---
TUHH - Public Relations Office
Jasmine Ait-Djoudi
E-Mail: pressestelle@tuhh.de
Phone: +49 40 428 78 3458