TUHH-Doktorandin ausgezeichnet für besten Vortrag
18.02.2017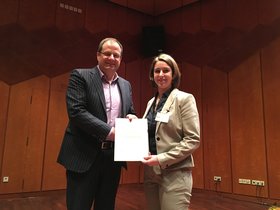 Die Doktorandin Britta Buck vom Institut für Feststoffverfahrenstechnik und Partikeltechnologie der Technischen Universität Hamburg (TUHH) ist auf dem Jahrestreffen der ProcessNet Fachgruppe "Agglomerations- und Schüttguttechnik" ausgezeichnet worden. Mit ihrem Beitrag "Comparison of experimental and numerical investigation of wet particle-wall collisions" setzte sie sich gegen 22 Teilnehmerinnen und Teilnehmer durch und erhielt den mit 300 Euro dotierten Preis für den besten Vortrag. Das Jahrestreffen fand vom 13.02.-14.02.2017 in Bruchsal statt.

ProcessNet ist die deutsche Plattform für Verfahrenstechnik Chemieingenieurwesen und Technische Chemie. Hier treffen sich über 5.000 Mitglieder aus Wissenschaft, Wirtschaft und Verwaltung, um Erfahrungen auszutauschen, aktuelle Fragestellungen zu diskutieren und neue wissenschaftliche Trends zu identifizieren. (siehe http://processnet.org)

Die Fachgruppe "Agglomerations- und Schüttguttechnik" hat sich die Erforschung sowohl der physikalisch-chemischen Grundlagen der Agglomerationstechnik, der Produktgestaltung und -formulierung, des Lagerns, Förderns und Dosierens von dispersen Feststoffen (Schüttgüter, feine Pulver) als auch deren praktische Anwendungen in den Anlagen der stoffwandelnden Industrie zum Ziel gesetzt.
---
TUHH - Public Relations Office
Jasmine Ait-Djoudi
E-Mail: pressestelle@tuhh.de
Phone: +49 40 428 78 3458