Startup Talk: TUHH-Alumnus bringt Industrieanlagen online
12.01.2017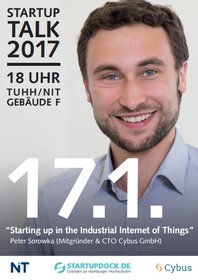 Maschinen, die über das Internet kommunizieren: Das ist die Idee des Hamburger Start-ups Cybus. Peter Sorowka, ein Absolvent der Technischen Universität Hamburg (TUHH), und seine Kollegen Pierre Manière und Marius Schmeding entwickelten eine Box, die Daten von Maschinen auf den Computer überträgt. Am 17. Januar, um 18 Uhr, ist Peter Sorowka Speaker im Startup Talk am NIT Northern Institute of Technology Management. Unter dem Titel "Starting up in the Industrial Internet of Things" berichtet er über den Aufstieg des Start-ups und Zukunftsperspektiven. Organisiert wird das Event von Startup Dock und NIT. Der Eintritt ist frei.

Vom Wimi zum erfolgreichen Gründer: Peter Sorowka hat von 2005 bis 2010 Elektrotechnik an der TUHH studiert und von 2010 bis 2014 als wissenschaftlicher Mitarbeiter im Institut für Nachrichtentechnik geforscht. Heute ist er technischer Leiter in dem von ihm mitgegründeten Start-up Cybus. Das Unternehmen entwickelt eine Software, die den Datenaustausch zwischen Produktionsanlagen und Cloud-Service sicher und einfach macht. Die Cybus-Box kann einfach in bestehende Maschinennetzwerke eingehängt werden und bietet Adapter zu fast allen bestehenden Industrie-Schnittstellen. Über eine sichere Online-Schnittstelle können Software-Entwickler mit wenigen Zeilen Quellcode Maschinen, Geräte oder Sensoren in ihre Anwendungen integrieren. Gleichzeitig bietet die Cybus-Lösung einer Fabrik die volle Kontrolle darüber, welche Maschinendaten aus der Ferne abgerufen werden können. Das ist so einfach, wie auf dem Smartphone zu entscheiden, welche App den eigenen Standort sehen oder Einblick in den persönlichen Kalender bekommen darf. Das Start-up ist auf Erfolgskurs: Auf den Publikumspreis beim Startup@Reeperbahn-Pitch 2015 folgte im Sommer 2016 ein sechsstelliges Investment der Pfannenberg Group.

In seinem Vortrag berichtet Peter Sorowka, wie es zur Idee und Entscheidung zur Selbstständigkeit kam und welche Hürden in den ersten zwei Jahren des Unternehmens zu bewältigen waren. Er erklärt, was Segelboote mit Industrie 4.0 zu tun haben, wie man es schafft, ohne anfängliche Industrie-Erfahrung von Kunden ernstgenommen zu werden und warum Start-ups manchmal auf die richtige Welle warten müssen, bevor ein innovatives Geschäftsmodell einen konservativen Markt erobern kann.
Kontakt
NIT Northern Institute of Technology Management gGmbH
Alina Gruhn
Coordinator Marketing & PR
alina.gruhn@nithh.de
040 42878 4217
Text: Alina Gruhn
---
TUHH - Public Relations Office
Jasmine Ait-Djoudi
E-Mail: pressestelle@tuhh.de
Phone: +49 40 428 78 3458