Double Master's TUHH & NIT: "Not elitist, but ambitious"
08.12.2016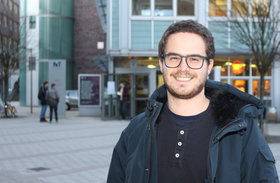 Two Master's in parallel: at NIT Northern Institute of Technology Management, students of Hamburg University of Technology (TUHH) can up their game with a Master's in Technology Management. Working in small classes of students from all over the world, engineers are trained as high-responsibility technology managers. Tobias Kraus is one of about 35 students who began their double course of studies last year. At NIT he appreciates the intercultural exchange, the deep insights into key issues and the strong community.
More than "just" engineering sciences: Tobias Kraus is studying International Production Management at TUHH and simultaneously Technology Management at NIT. "When I tell people about this, many say "Wow, two Master's!" says the Stuttgart-born engineer. "In fact NIT isn't elitist, but it is ambitious. We're pretty normal students who simply want to do more and find out about new things." The course contents at NIT include business-oriented courses such as Operations Management and Marketing, as well as soft skills and foreign languages. The students can choose one of two specializations: Classic Track and E-Track. Tobias selected the E-Track (Entrepreneurial Management). "In the future I'd like to set up my own company. At NIT we receive intensive coaching and learn all the methods and approaches we need to found a business."
Instead of teacher-centered teaching, NIT employs project-focused learning and teamwork. In the Research & Development seminar, for instance, they need to build and program a Lego vehicle so that it meets a wide range of criteria such as recognizing parking spaces and sideways parking. "Working in intercultural teams is fun, but also brings challenges," says Tobias. "One shouldn't underestimate the importance of soft skills, because we all have different ways of working and approaching things." Tobias' class includes students of both sexes from eight different countries: Mexico, India, Iran, Singapore, Ecuador, China, Columbia and Germany.
"The things we learn from our fellow students are just as important as the actual study contents."
The courses at NIT are conducted in English and take place in the evenings and at weekends. In addition there are two four-week Spring Schools. "These are very intensive periods with overnight assignments and group activities, and it has really welded us students together." This sense of cohesion in the group and the widespread motivation to tackle diverse issues is something Tobias values at NIT: "We don't study at NIT because we have to, but because we really want to. And that's a lot of fun."
The Master's program in Technology Management begins every year in October. For more information go to www.nithh.de
Text: Alina Gruhn
---
TUHH - Public Relations Office
Jasmine Ait-Djoudi
E-Mail: pressestelle@tuhh.de
Phone: +49 40 428 78 3458