TUHH lädt zur "Conference on Maritime Energy 2017"
24.11.2016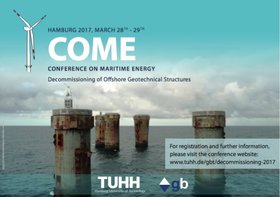 Durch den Boom des Offshore-Energiesektors ist die Anzahl der Industrieanlagen auf dem Meer stark gestiegen. Im Mittelpunkt steht dabei der Aufbau dieser Plattformen. Doch welche Möglichkeiten gibt es, die Anlagen nach Gebrauch umweltfreundlich abzubauen? Können sie in den natürlichen Lebenszyklus integriert werden? Wie lassen sich ökologische und ökonomische Interessen vereinbaren?
An der Technischen Universität Hamburg (TUHH) widmen sich auf der "Conference on Maritime Energy 2017" (COME) mehr als 150 Expertinnen und Experten aus Industrie und Wissenschaft weltweit diesen Fragen. Die COME findet am 28. und 29. März 2017 das zweite Mal an der TUHH statt und richtet sich neben Fachleuten auch an die Öffentlichkeit. Eingeladen sind prominente Gäste: Katharina Fegebank, Zweite Hamburger Bürgermeisterin, eröffnet die Konferenz mit einem Vortrag zur Situation der Maritimen Wirtschaft in Hamburg.
Alistair Hope, Project Director bei Shell, berichtet in einer Keynote über den Rückbau der Öl-Plattform "Brent Spar". Weitere Vorträge von geologischen bis rechtlichen Fragen halten Wissenschaftlerinnen und Wissenschaftler unter anderem von der University of Western Australia und der National University of Singapore. "Wir freuen uns auf den fachlichen Austausch mit den Kolleginnen und Kollegen aus Europa, den USA und Australien", sagt Professor Jürgen Grabe vom TUHH-Institut für Geotechnik und Baubetrieb, das zur der Konferenz einlädt. "Gemeinsam wollen wir Ansätze zum Abbau der Industrieanlagen diskutieren, die die Auswirkungen auf den marinen Lebensraum so gering wie möglich halten."
Early-Bird-Tickets gibt es noch bis zum 31. Dezember 2016. Für Mitarbeiterinnen und Mitarbeiter und Studierende der TUHH ist der Eintritt frei.
Weitere Informationen und Registrierung:
https://www.tuhh.de/gbt/decommissioning-2017/registration.html
---
TUHH - Public Relations Office
Felicia Heymann
E-Mail: pressestelle@tuhh.de