Gemeinsam für eine nachhaltigere Gesellschaft – 25 "Green Talents 2016" besuchen TUHH-Institute
21.10.2016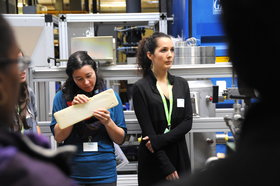 Talentiert, interessiert, zukunftsorientiert: Die 25 vom Bundesministerium für Bildung und Forschung (BMBF) ausgewählten Nachwuchswissenschaftlerinnen und -wissenschaftler "Green Talents" informierten sich einen Tag lang über aktuelle Forschungsthemen an der Technischen Universität Hamburg (TUHH). Die Auszeichnung unter der Schirmherrschaft von Bildungsministerin Johanna Wanka ehrt dieses Jahr bereits zum achten Mal junge Wissenschaftstalente aus verschiedenen Ländern und wissenschaftlichen Disziplinen. Sie sind vereint durch ihre herausragenden Leistungen im Bereich Umwelt- und Nachhaltigkeitsforschung. Eingegangen waren mehr als 750 Bewerbungen aus 104 Nationen.
Zum ersten Mal besuchten die "Green Talents" auf ihrem zweiwöchigen Deutschlandbesuch mit der TUHH neben anderen Forschungseinrichtungen auch eine Universität. Das BMBF wählte die TUHH, um den Preisträgerinnen und Preisträgern einen exklusiven Einblick in die deutsche Forschungslandschaft zu geben. Begrüßt wurde die Delegation von TUHH-Vizepräsident Forschung, Professor Andreas Timm-Giel, und Professor Christian Ringle, Director of International Affairs an der TUHH. Vorgestellt und diskutiert wurden die drei TUHH-Kompetenzfelder Green Technologies, Life Science Technologies und Aviation and Maritime Systems. Das Programm beinhaltete unter anderem eine Laborführung durch die Bioraffinerie der TUHH sowie Einführungsvorträge in das Chemieingenieurwesen und Offshore-Konstruktionen. Die "Green Talents" traten dabei in einen regen Austausch mit den rund 20 beteiligten TUHH-Wissenschaftlerinnen und -Wissenschaftlern aus den Instituten für Thermische Verfahrenstechnik unter Leitung von Professorin Irina Smirnova sowie Geotechnik und Baubetrieb unter Leitung von Professor Jürgen Grabe.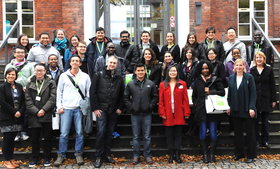 "Die Neugier und Offenheit auf den Forschungs- und Innovationsstandort Deutschland und insbesondere auf die TUHH zu sehen, hat Spaß gemacht", sagt Dr. Krista Schölzig, Geschäftsführerin der Graduiertenakademie. Gemeinsam mit Nicole Frei, Referentin für Internationalisierung, organisierte sie den Besuch an der TUHH, der mit einem Get Together endete. "Wir sind zuversichtlich, dass durch den Besuch der eine oder andere Grundstein für internationale Forschungskooperationen der Zukunft gelegt wurde", so Frei.
Neben der TUHH besuchen die Preisträgerinnen und Preisträger auf ihrer Deutschlandreise unter anderem das Alfred-Wegener-Institut für Polar- und Meeresforschung sowie das Max-Planck-Institut für Plasmaphysik. Eine offizielle Preisverleihung des Wettbewerbs findet am 27. Oktober 2016 in Berlin statt.
---
TUHH - Public Relations Office
Felicia Heymann
E-Mail: pressestelle@tuhh.de