Anregungen aus Fernost: ZLL-Reise zu Partner-Unis in Singapur – neues Alumni-Chapter eröffnet
14.10.2016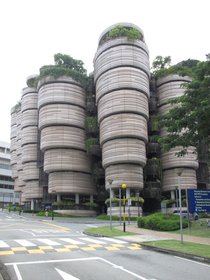 Innovative Konzepte beflügeln exzellente Lehre: Das ist die zentrale Erkenntnis einer Delegationsreise des Zentrums für Lehre und Lernen (ZLL) zu Partnerhochschulen der Technischen Universität Hamburg (TUHH) in Singapur. "Singapur besitzt keine nennenswerten Ressourcen – abgesehen von seinen Menschen", sagt Dr. Peter Salden, stellv. Geschäftsführender Koordinator des ZLL. "Eben diese Ressource, so das Credo der Regierung, gelte es daher zu erschließen, und zwar durch ausgezeichnete Bildung."
In den vergangenen Jahren investierte der südostasiatische Stadtstaat erheblich in seine Hochschulen, um exzellente Einrichtungen mit weltweiter Strahlkraft aufzubauen. Tatsächlich rangierten die National University of Singapore (NUS) und die Nanyang Technological University (NTU) im weltweiten QS Hochschulranking 2015/16 auf den Plätzen 12 und 13 und damit vor westlichen Top-Einrichtungen wie Yale und Berkeley.
Infrastruktur beeinflusst Lehre und Lernen
Neben der NUS und der NTU stand zudem die junge Singapore University of Technology and Design (SUTD) auf dem Reiseprogramm. "An allen drei Hochschulen fällt sofort ins Auge, dass sie über eine ausgezeichnete Infrastruktur verfügen, die interaktives, dialogorientiertes Lehren und Lernen ermöglicht", sagt Jenny Alice Rohde, Fachreferentin für Weiterqualifizierung am ZLL. Spektakuläres Beispiel dafür: der achtstöckiger NTU-Bau "The Hive", der Bienenstock, der ausschließlich aus ovalen Räumen mit rollbaren Tischen und Stühlen, Whiteboards und einem eigenen Monitor pro Gruppentisch besteht. "So ist ein Ort mit besonderer Atmosphäre entstanden, an dem der lebendige Austausch auf der Suche nach wissenschaftlicher Erkenntnis im Mittelpunkt steht", sagt Rohde.
Didaktisch auf Augenhöhe
Eine weitere Erkenntnis: Didaktisch verfolgen die Singapurer Universitäten ganz ähnliche Ansätze wie die TUHH. "Besonders interessant für uns waren jene Lern- und Prüfungsformate, die der realen Arbeitswelt von Ingenieurinnen und Ingenieuren entsprechen", sagt Jenny Rohde. So stünden etwa an der SUTD schon ab dem ersten Bachelor-Semester kleinere Projekte auf dem Lehrplan, die sich im Verlauf des Studiums in der Komplexität steigern. In einem Abschlussprojekt arbeiten interdisziplinäre Studierendengruppen an Projekten, die von Industriepartnern eingebracht werden.
"Diese Reise hat uns einmal mehr gezeigt, dass wir mit unseren Ansätzen und Angeboten auf dem richtigen Weg sind – und manchmal übrigens auch selbst einen Schritt voraus", sagt Peter Salden. "Denn nicht nur wir konnten in Singapur etwas lernen, auch das Interesse an den lehrbezogenen Reformen an der TUHH war groß." So sei etwa der Ansatz der TUHH, Veranstaltungen im engen Austausch zwischen Lehrenden und einem fachnah arbeitenden didaktischen Zentrum wie dem ZLL weiterzuentwickeln, auf großes Interesse gestoßen. Auch hiesige Konzepte in den Bereichen Weiterqualifizierung oder Projektarbeit seien sehr gefragt gewesen. Peter Salden: "Besonders freuen wir uns, dass auf beiden Seiten das große Interesse besteht, diesen Austausch fortzusetzen – auch über die große Entfernung hinweg."
Zweites Alumni-Chapter in Asien gegründet
Im Rahmen der Singapur-Reise wurde zudem ein neues Chapter des weltweiten TUHH-Ehemaligen-Netzwerks gegründet. "Wir freuen uns, dass wir mit Professor Nils Ole Tippenhauer einen engagierten Chapter-Präsidenten in Singapur gewinnen konnten", sagt Vera Lindenlaub, Alumni-Koordinatorin der TUHH. Tippenhauer studierte Computer Engineering an der TUHH und ist seit knapp drei Jahren als Assistant Professor an der SUTD in Singapur tätig und nun Ansprechpartner für Ehemalige, Angehörige und Freunde der TUHH in Singapur.
Diese Alumni-Landesgruppen ermöglichen Ehemaligen der TUHH und des Northern Institute of Technology Management (NIT), mit Kommilitoninnen und Kommilitonen in Kontakt zu bleiben und sich mit Ingenieurinnen und Ingenieuren aus aller Welt zu vernetzen. Die soeben eröffnete Alumni-Gruppe in Singapur ist nach der in der chinesischen Hafenmetropole Shanghai die zweite in Asien – und bereits das elfte Alumni-Chapter weltweit.
---
TUHH - Public Relations Office
Sabrina Knoll
E-Mail: pressestelle@tuhh.de