Quo vadis, Biotechnologie? Internationales Symposium an der TUHH
29.09.2016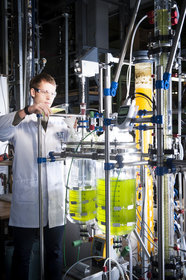 An der Technischen Universität Hamburg (TUHH) findet am 29. und 30. September 2016 das Symposium "Biotechnology sparks: The Past and the Future" statt. Hochkarätige Referenten aus dem In- und Ausland diskutieren die neuesten Trends in der Biotechnologie. Erwartet werden mehr als 60 Wissenschaftlerinnen und Wissenschaftler.
Im Mittelpunkt des Symposiums stehen die zukünftigen Entwicklungen in der Biotechnologie. Die Vorträge beschäftigen sich mit systembiologischen Ansätzen in der Gesundheitsforschung, im Protein-Engineering für Biokatalyse und in der Synthetischen Biologie für nachhaltige Nutzung von biomasse und CO2 für die Herstellung von wertvollen Chemikalien, Polymeren und Biokraftstoffen.
Das Symposium wird von Prof. Dr. An-Ping Zeng, Leiter des TUHH-Instituts für Bioprozess- und Biosystemtechnik, initiiert. Das Institut geht neue Wege und verbindet die Bioprozesstechnik mit systembiologischen und synthetisch-biologischen Ansätzen. Die Forschungsaktivitäten unter dem Motto "Research for human and environment" verknüpfen Fragen des Molecular-Designs, der Stammentwicklung über die Biosynthese bis hin zur Produktaufarbeitung miteinander. Im Fokus stehen methodische und Grundlagenuntersuchungen zum Verständnis und Design biomolekularer und zellulärer Prozesse sowie die Entwicklung integrierter Bioprozesse für neue Bioprodukte und Biosysteme in der industriellen und medizinischen Biotechnologie.
In den vergangenen Jahren konnten für diese Forschungen am TUHH Institut für Bioprozess- und Biosystemtechnik jährlich rund 1,4 Millionen an Fördermitteln von verschiedenen Förderinstitutionen wie EU, DFG, BMBF und AIF eingeworben werden.
Mehr Informationen zum Symposium unter www.tuhh.de/ibb/news.html#c73289
---
TUHH - Public Relations Office
Jasmine Ait-Djoudi
E-Mail: pressestelle@tuhh.de
Phone: +49 40 428 78 3458