Gerhard Damköhler-Medaille für TUHH-Professor Frerich Keil
20.09.2016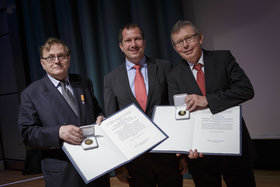 Prof. Dr. Dr.h.c. Frerich Keil von der Technischen Universität Hamburg (TUHH) wurde für seine international anerkannten wissenschaftlichen Leistungen auf dem Gebiet der chemischen Verfahrenstechnik mit der Gerhard Damköhler-Medaille ausgezeichnet. Seine Arbeiten zur molekularen Modellierung katalytischer Reaktionen und zu Transportprozessen in porösen Medien ermöglichen ein grundlegendes Verständnis der chemischen Reaktionsabläufe. Sie bilden die Basis für eine computergestützte Reaktoroptimierung. Frerich Keil etablierte neue Meßmethoden in der chemischen Kinetik und leiteste Pionierarbeiten bei der Modellierung von Ultraschallreaktoren.
Die Gerhard Damköhler-Medaille wird mindenstens alle drei Jahre für besondere Leistungen bei der Modellentwicklung und der Maßstabsvergrößerung in der chemischen Verfahrenstechnik vergeben.
Frerich Keil, Jahrgang 1947, studierte Chemie und Physik an den Universitäten Clausthal-Zellerfeld und Karlsruhe und promovierte 1976 in Karlsruhe im Fachgebiet Theoretische Chemie. Nach seiner Promotion arbeitete er als wissenschaftlicher Mitarbeiter bei der UHDE GmbH in Dortmund und 1982/83 in Orissa (Indien). 1989 übernahm er den Lehrstuhl für Chemische Reaktionstechnik an der TUHH. 1990/1991 war er Dekan der Fakultät für Verfahrens- und Chemietechnik und in den folgenden Jahren Sprecher des FB Verfahrenstechnik. 2000 wurde ihm die Ehrendoktorwürde, in 2015 die Ehrenprofessur der University of Chemical Technology & Meallurgy in Sofia (Bulgarien) verliehen. Für seine Verdienste in Bulgarien wurde er 2013 vom bulgarischen Staatspräsidenten mit dem Orden Kyrill & Methodius ausgezeichnet. 2015 erhielt er einen Ruf an das State Key Lab of Chemical Engineering in Shanghai (China). Frerich Keil ist Sprecher verschiedener DFG-Schwerpunkte und Mitglied in mehreren ProcessNet-Fachgruppen.
---
TUHH - Public Relations Office
Jasmine Ait-Djoudi
E-Mail: pressestelle@tuhh.de
Phone: +49 40 428 78 3458