Technology Management am NIT – Jetzt zum Webinar anmelden!
13.06.2016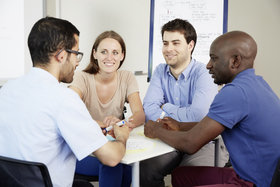 Am 22. Juni 2016, um 14 Uhr, lädt das NIT Northern Institute of Technology Management alle Interessenten des berufsbegleitenden MBA-Programms zu einer Info-Session online ein. Recruiting and Admissions Manager Stephan Scheuner gibt einen Einblick in das NIT-Studium Technology Management und beantwortet individuelle Fragen live. Am 15. Juli endet die Bewerbungsfrist für einen berufsbegleitenden MBA. Das Studium beginnt im Oktober.
Das NIT ist die Business School der Technischen Universität Hamburg. Ingenieurinnen und Ingenieure aus aller Welt lernen am NIT Managementaufgaben verantwortungsvoll zu übernehmen. Das MBA-Studium können berufserfahrene Ingenieure, IT-Experten, Naturwissenschaftler und Doktoranden parallel zum Job absolvieren und sich so auf den nächsten Karriereschritt vorbereiten. Die englischsprachigen Seminare finden abends und am Wochenende statt. Viele Unternehmen betrachten das MBA-Studium als Bestandteil einer strategischen Personalentwicklung. So machen sie ihre Ingenieure gezielt fit für den internationalen Managementeinsatz. Der Abschluss Master of Business Administration wird verliehen von der Technischen Universität Hamburg.
Fragen über Fragen
Was sind die Studienvoraussetzungen? Wie lässt sich das Studium mit meinem Beruf kombinieren? Was ist eigentlich der E-Track? Nach einer kleinen Präsentation des NIT geht Stephan Scheuner in dem Webinar auf die Fragen jedes Interessenten ein und gibt Tipps für den Bewerbungsprozess.
Anmeldung zu der Info-Session am 22. Juni um 14 Uhr per Mail an: admissions@nithh.de
Bewerbungsprozess am NIT
Lust auf mehr? Interessenten für ein Studium am NIT sollten folgende Voraussetzungen mitbringen: sehr gute Englischkenntnisse, einen überdurchschnittlichen Bachelorabschluss in einem natur- oder ingenieurwissenschaftlichen Studienfach und hohe Belastbarkeit. Weitere Informationen zum Bewerbungsverfahren finden Sie hier: https://www.nithh.de/de/programme/mba-in-teilzeit/bewerbung/
Text: Alina Gruhn
---
TUHH - Public Relations Office
Felicia Heymann
E-Mail: pressestelle@tuhh.de