Berkeley zu Gast an der TUHH: Cylad Consulting fördert UC Berkeley-Doktoranden und Gastvortragsreihe mit US-Wissenschaftler
30.05.2016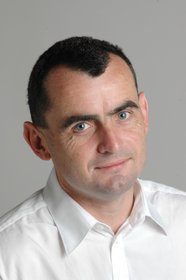 Die Technische Universität Hamburg (TUHH) freut die Förderung der Cylad Consulting von drei Doktoranden der University of California, Berkeley (UC Berkeley). Diese erhalten ein Stipendium über insgesamt 9.000 Euro für ihren Forschungsaufenthalt an der TUHH. Zudem hat Cylad Consulting eine mehrtätige Vorlesungsreihe mit Professor Oliver O'Reilly vom Department Mechanical Engineering der UC Berkeley ermöglicht. Der US-Wissenschaftler war vom 23. bis 27. Mai 2016 zu Gast an der TUHH.
Die geförderten Nachwuchswissenschaftler werden an einem eineinhalb- bis dreimonatigen Unterwasserrobotik-Projekt sowie an flexiblen Mehrkörpersystemen arbeiten. Betreut werden sie vom TUHH-Institut für Mechanik und Meerestechnik, mit dem Cylad Consulting eine langjährige Kooperation pflegt. "Ich freue mich, wenn auf diese Weise noch viele weitere Studierende und Wissenschaftler von der Partnerschaft zwischen der TUHH und der UC Berkeley profitieren können", sagt Dr. Steffen Petersen, Associate Partner von Cylad Consulting und TUHH-Absolvent. "Wenn ein ehemaliger Absolvent sich für seine Alma Mater so engagiert und auch den internationalen Geist der TUHH mit lebt, dann denke ich, haben wir alles richtig gemacht", so TUHH-Präsident Garabed Antranikian. "Wir freuen uns auf die Gäste aus Berkeley."
Oliver O'Reilly, der für eine mehrtägige Vorlesungsreihe an die TUHH gekommen ist, hat sich auf Kontinuumsmechanik und nichtlineare Dynamik spezialisiert. Der US-Wissenschaftler hat über 80 Fachartikel sowie zwei Lehrbücher veröffentlicht. Während seines TUHH-Aufenthalts hielt er Vorträge zu den Themen "Differential Geometry and Lagrange's Equations of Motion", "Rotations: A perspective on new results" und "Surprising Moments in Biomechanics and Rigid Body Dynamics".
Dr. Steffen Petersen ist seit 2014 Teil der Partnergruppe von Cylad Consulting und entscheidend für den regelmäßigen Austausch zwischen der TUHH und der UC Berkeley. Er absolvierte sein Bauingenieurstudium an der TUHH und promovierte am Institut für Modellierung und Berechnung im Bereich Maschinenbau. Vor seinem Einstieg in die Unternehmensberatung arbeitete er als Post-Doktorand an der Stanford University im Fachbereich Mechanical Engineering.
http://www.cylad-consulting.com/de
http://www.berkeley.edu
http://www.tuhh.de/mum/HippoCampus
---
TUHH - Public Relations Office
Felicia Heymann
E-Mail: pressestelle@tuhh.de