TUHH: Ein Start-up auf der Überholspur: bentekk gelingt Seed-Finanzierung
29.04.2016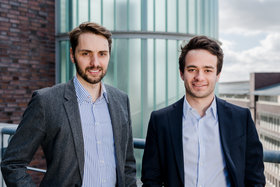 Matthias Schmittmann und Johannes Weber, Alumni der Technischen Universität (TUHH) und des NIT Northern Institute of Technology Management, haben erfolgreich eine Seed-Finanzierungsrunde für ihr Start-up bentekk abgeschlossen. Der High-Tech Gründerfonds (HTGF) und der Innovationsstarter Fonds Hamburg (IFH) investieren einen sechsstelligen Betrag in das junge Hamburger Unternehmen. Mit der Finanzierung soll der deutschsprachige Markt erschlossen und eine zweite Produktversion ihres mobilen Gaschromatographen entwickelt werden.
Eine Box mit gutem Riecher: Mit dem ersten Produkt, dem X-PID, nimmt bentekk eine Pionierrolle auf dem Gebiet der mobilen Gaschromatographie ein. Das Messgerät bestimmt Benzol und anderen toxische Gase bereits in niedrigsten Konzentrationen. Ziel ist es, die Arbeitssicherheit durch eine verbesserte Überwachung von Grenzwerten toxischer Gase zu erhöhen. Mit ihrer sensiblen Messtechnik und der leichten Bedienung des X-PID konnten die NIT-Alumni Schmittmann und Weber den HTGF und den IFH für sich gewinnen. "bentekk hat mit dem X-PID eine mobile, präzise, schnelle und kostengünstige Lösung entwickelt, die es bisher so nicht auf dem Markt gibt", begründet Lucille Bonnet, Investment Manager beim HTGF, die Entscheidung, in bentekk zu investieren. "Wir sehen großes Potenzial und Nutzen für unterschiedlichste Industriezweige basierend auf dieser Technologie-Plattform." Gencer Sahin, Investment Manager beim IFH, ergänzt: "Das X-PID schafft es, die vorhandene Lücke auf dem Markt für mobile Gaschromatografie zu schließen. Das Messgerät ist die einzige auf dem Markt vorhandene tragbare Technologie, die in der Lage ist, die für die Zukunft bereits angekündigten, schärfer gefassten Grenzwerte für Benzol zu detektieren."
Die Finanzierung soll dazu genutzt werden, eine zweite Produktversion zu entwickeln, die für den Einsatz in explosionsgefährdeten Gasatmosphären zertifiziert werden kann. Außerdem soll der Markt durch eine Stärkung des direkten Vertriebs und den Aufbau eines Partnervertriebs erschlossen werden.
Über die bentekk GmbH
Matthias Schmittmann und Johannes Weber gründeten die bentekk GmbH während ihres Studiums an der Technischen Universität Hamburg (TUHH) und dem NIT Northern Institute of Technology Management im November 2014. bentekk entwickelt selektive Messtechnik für die Bestimmung von Schadstoffen vor Ort. Im Januar 2016 ist dem Team um den Chemieingenieur Matthias Schmittmann und den Wirtschaftsingenieur Johannes Weber der Markteintritt mit dem Produkt X-PID durch Verkäufe und Vermietungen an namhafte Industrieunternehmen gelungen. bentekk wurde durch das EXIST-Gründerstipendium des BMWi und durch das Programm InnoRampUp der Investitions- und Förderbank Hamburg (IFB) gefördert.
Über das NIT
Am NIT Northern Institute of Technology Management in Hamburg lernen Ingenieure aus aller Welt, Managementaufgaben verantwortungsvoll zu übernehmen. Gemeinsam mit der Technischen Universität Hamburg (TUHH) bietet das private Institut seit 1999 ein englischsprachiges Studienprogramm mit zwei vollwertigen Masterabschlüssen an: Engineering und Technology Management. Jährlich schließen 35 High Potentials ihr Studium ab, darunter Stipendiaten von Unternehmen und Stiftungen. Das MBA-Programm können erfahrene Ingenieure auch berufsbegleitend absolvieren. Darüber hinaus bietet das NIT Seminare für Ingenieure zu verschiedenen Managementthemen an und entwickelt maßgeschneiderte Weiterbildungen für Industrieunternehmen. www.nithh.de
---
TUHH - Public Relations Office
Jasmine Ait-Djoudi
E-Mail: pressestelle@tuhh.de
Phone: +49 40 428 78 3458