Top-Unternehmen suchen Top-Kandidaten für Doppelstudium an TUHH und NIT
24.03.2016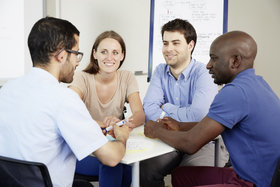 Zwei Master auf einmal: Die Studierenden des NIT Northern Institute of Technology Management wollen mehr als "nur" Ingenieurwissenschaften. Sie absolvieren im Doppelstudium einen Master of Science an der Technischen Universität Hamburg (TUHH) und einen Master in Technology Management am NIT. Viele Unternehmen unterstützen diese einzigartige Kombination und vergeben Stipendien an besonders gute Kandidatinnen und Kandidaten.

Das NIT-Master-Programm bereitet ambitionierte, junge Ingenieurinnen und Ingenieure auf spannende Herausforderungen im globalen Kontext vor, damit sie künftig verantwortungsbewusst als Technologiemanager arbeiten können. Während des zweijährigen Doppelstudiums erweitern die Studierenden aus aller Welt ihre ingenieurwissenschaftliche Expertise um eine fundierte Managementausbildung. Eine Mischung, die auch bei Unternehmen gut ankommt. Der Stahlproduzent ArcelorMittal Hamburg ist langjähriger Partner des NIT und vergibt regelmäßig Stipendien für NIT-Studierende. "Die Partnerschaft mit dem NIT gibt uns die Möglichkeit, besonders talentierte Studierende zu fördern und mit ihnen zusammenzuarbeiten", sagt Lutz Bandusch, Geschäftsführer von ArcelorMittal Hamburg. "Die Kombination der zwei Masterstudiengänge ist eine hervorragende Vorbereitung für zukünftige Führungspositionen: Die Studenten haben Fähigkeiten sowohl auf technischer als auch auf betriebswissenschaftlicher Seite. Das ist es, was Unternehmen sich heutzutage wünschen." NIT-Studierende profitieren von interaktivem und persönlichem Unterricht, internationalen Dozenten sowie einer interkulturellen Lernatmosphäre. Der abwechslungsreiche Einsatz von Case Studies, Simulationen, Exkursionen und Praxisphasen in Unternehmen sowie Vorträge verschiedener Gastredner garantieren die erfolgreiche Verknüpfung von Theorie und Praxis.
In diesem Jahr vergeben folgende Unternehmen ein bis zwei Stipendien an hervorragende Bewerberinnen und Bewerber: ArcelorMittal Hamburg, Hamburg Airport, Jungheinrich, NXP Semiconductors, Procter & Gamble, TÜV Nord Group, tesa SE.

Das englischsprachige Programm beginnt im Oktober 2016. Bewerbungsvoraussetzung ist ein abgeschlossenes Bachelorstudium in ingenieurwissenschaftlichen oder MINT-Fächern.
Weitere Informationen rund um das Studium am NIT: www.nithh.de
Informationen zur Bewerbung: https://www.nithh.de/de/programme/double-degree-programm/bewerbung/
Kontakt. Dr.-Ing. Stephan Scheuner, Mail: admissions@nithh.de
---
TUHH - Public Relations Office
Jasmine Ait-Djoudi
E-Mail: pressestelle@tuhh.de
Phone: +49 40 428 78 3458