Zwei Master zeitgleich: NIT und TUHH bieten Doppel-Master-Programm an – noch bis 31. März 2016 bewerben
Doppelstudium in Hamburg: Technology Management und Ingenieurwissenschaft
19.02.2016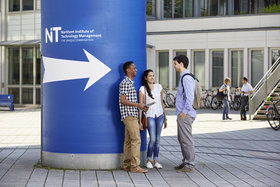 Hamburg, 19. Februar 2016 – Ambitionierte Bachelor-Absolventen ingenieurwissenschaftlicher Fachrichtungen können sich noch bis 31. März 2016 für das englischsprachige Doppel-Master-Programm in Technology Management (M.A. oder MBA) und Ingenieurwissenschaft (M.Sc.) bewerben. Angeboten wird das Doppelstudium vom NIT Northern Institute of Technology Management und der Technischen Universität Hamburg (TUHH). In dem Programm vertiefen die Studierenden ihr technisches Fachwissen und erweitern es um Management- und Führungskompetenzen. Nach erfolgreichem Studium vergibt die TUHH die beiden Master-Abschlüsse.
Am NIT in Hamburg lernen Ingenieure aus aller Welt, Managementaufgaben verantwortungsvoll zu übernehmen. Jährlich schließen 35 High Potentials ihr Studium ab, darunter Stipendiaten von Unternehmen und Stiftungen. Der nächste Jahrgang startet im Oktober 2016 am NIT. Die Studierenden absolvieren das Masterstudium in Technology Management komplett auf Englisch. Je nach Berufserfahrung schließen sie das Studium mit einem Master of Arts oder einem MBA ab. Parallel dazu studieren sie nach Interesse und Vorbildung an der TUHH einen Master of Science, beispielsweise Mechatronics, Informatik-Ingenieurwesen, Mechanical Engineering, Information and Communication Systems oder Chemical and Bioprocess Engineering
"Mein technisches Profil habe ich während des Double-Degree-Programms um wertvolles Management-Know-how vervollständigt", sagt Andrés Felipe Bolaños Franco aus Kolumbien, der aktuell an TUHH und NIT studiert. "Durch das internationale Umfeld von Kommilitonen und die Professoren aus aller Welt habe ich meine interkulturellen und kommunikativen Kompetenzen weiter ausgebaut." Diese Soft Skills sind gerade bei Unternehmen im internationalen Kontext besonders gefragt.
Besonders herausragende Studierende können sich für das Doppel-Master-Programm um ein Stipendium bewerben. In diesem Jahr werden unter anderem Stipendien von folgenden Unternehmen vergeben: Flughafen Hamburg, Procter & Gamble, Aurubis, ArcelorMittal, NXP Semiconductors und Jungheinrich. Dabei ist neben einem sehr guten Bachelorabschluss u.a. die geplante Studienrichtung des Master of Science an der TUHH entscheidend, außerdem sind Referenz- und Motivationsschreiben erforderlich.
Das Admission Office des NIT informiert Studieninteressierte gern über Inhalte, Zulassung, Ablauf und Finanzierung des Masterstudiums in Technology Management. Neben einem ersten ingenieur- oder naturwissenschaftlichen Studienabschluss sind auch sehr gute Englischkenntnisse nachzuweisen. Nähere Informationen unter Telefon 040 42878-3787, via E-Mail admissions@nithh.de oder auf www.nithh.de.
Über das NIT
Das NIT Northern Institute of Technology Management bietet seit 1999 in Public-private-Partnership mit der Technischen Universität Hamburg (TUHH) eine Managementausbildung für Ingenieure an. Jährlich absolvieren 35 Studierende aus aller Welt, darunter Stipendiaten von Unternehmen und Stiftungen, ein englischsprachiges Studium mit zwei vollwertigen Masterabschlüssen, die von der TUHH vergeben werden: Ingenieurwissenschaft und Technology Management. Erfahrene Ingenieure können das MBA-Studium in Technology Management auch berufsbegleitend absolvieren. Darüber hinaus bietet das NIT Seminare für Ingenieure zu verschiedenen Managementthemen an und entwickelt maßgeschneiderte Weiterbildungen für Industrieunternehmen. www.nithh.de
Pressekontakt
Katrin Meyer
NIT Northern Institute of Technology Management GmbH
Kasernenstraße 12, 20173 Hamburg
Tel.: + 49 40 42878-3788
E-Mail: katrin.meyer@nithh.de
---
TUHH - Public Relations Office