Let's Swing! Swing-Konzert der TUHH-Bigband
28.01.2016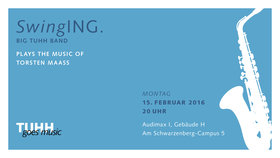 Am 15. Februar 2016 wird es rhythmisch an der Technischen Universität Hamburg (TUHH). Die TUHH Bigband SwingING. lädt zu einem großen Semesterabschluss-Konzert ins Audimax I der Universität. Stargäste sind Komponist und Trompeter Torsten Maaß und die Schauspielerin und Sängerin Caroline Kiesewetter. Der Eintritt ist frei.
Wenn die Bigband der TUHH anfängt zu spielen, bleibt sicher keiner still auf seinem Stuhl sitzen. Unter Leitung von Torsten Maaß verwandelt sich der Vorlesungssaal in eine Konzerthalle. Die Besucherinnen und Besucher erwartet Musik im Stil der 50er Jahre, komponiert von dem renommierten Musiker und "Haus-Arrangeur" der SwingING.-Band Torsten Maaß. Der gebürtige Ahrensburger spielt Trompete und zählt als Komponist und Arrangeur zu einem der Großen in der internationalen Musikszene. Der Diplom-Musiker hatte Engagements bei diversen Musicals, der NDR Bigband Hamburg, der RIAS Big Band Berlin und weiteren sowie zahlreichen Studioproduktionen. Maaß wirkte von 1994 bis 2006 als Mitglied der Pepe Lienhard Band und Arrangeur auf fünf Udo Jürgens-Tourneen mit. Als Komponist bzw. Arrangeur arbeitete er zudem für die NDR Bigband, die Pop-Band No Angels, Udo Jürgens sowie diverse Fernsehshows in Deutschland Österreich und der Schweiz (z. B. RTL Let's Dance). 1999 coproduzierten das Sunday Night Orchestra aus Nürnberg und Torsten Maaß die CD "IT`S ONLY LIFE – Sunday Night Orchestra plays the music of Torsten Maaß".
Die bekannte TV- und Theaterschauspielerin Caroline Kiesewetter ("Die Rettungsflieger", "Rote Rosen") ist zudem eine Sängerin der besonderen Art. Schon als Kind krabbelte sie zwischen den Saxophonen in Vaters Studio herum. Als "junge Deern" sang sie mit Onkel Knut Kiesewetter - bekannt als Jazz-Sänger, Liedermacher, Produzent und Schriftsteller.
Das Konzert wird von der Hamburger Sparkasse gesponsert.
SwingING., 15.02.2016, 20 Uhr, TUHH, Audimax I, Schwarzenberg-Campus 5, 21073 Hamburg
---
TUHH - Public Relations Office
Jasmine Ait-Djoudi
E-Mail: pressestelle@tuhh.de
Phone: +49 40 428 78 3458