Klassenbeste - Der NIT Study Award geht an ...
22.12.2015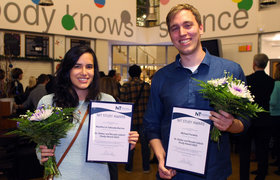 Martha Taboada und Michael Purwins werden mit dem NIT Study Award 2015 gekürt. Gestiftet von der Dr. Dieter and Renate Liebich-Stiftung zeichnet der Preis Studenten mit herausragenden akademischen Leistungen aus. Mit einem Notendurchschnitt von 1,6 ist der deutsche NIT-Student Michael Purwins Klassenbester, dicht gefolgt von der Kolumbianerin Martha Taboada mit einem Durchschnitt von 1,7. Der Preis ist mit insgesamt 2.000 Euro dotiert.
NIT-Präsident Professor Otto von Estorff and Dieter Podlech, Vertreter der Dr. Dieter und Renate Liebich-Stiftung, verliehen die Preise im Rahmen des diesjährigen Adventstreffens am 11. Dezember 2015 am NIT. In seiner Rede betonte von Estorff die hohe Motivation und Leistungsbereitschaft der ausgezeichneten Studenten. "Es war ein Kopf-an-Kopf-Rennen: Ein einziger Punkt war für Platz eins und zwei ausschlaggebend. Beide haben exzellente Leistungen in ihrem ersten Studienjahr gezeigt." Michael Purwins studiert berufsbegleitend neben seiner Anstellung bei Hauni. Die Doppelbelastung meistert er mit Bravour. Martha Taboada hat bereits ihren Bachelorabschluss in Kolumbien mit Top-Noten abgeschlossen und war landesweit beste Absolventin ihres Fachs. Sie studiert im Double-Degree-Programm des NIT: Technology Management am NIT und Chemical and Bioprocess Engineering an der Technischen Universität Hamburg.
Jedes Wintersemester werden am NIT jene Studierenden mit dem NIT Study Award ausgezeichnet, die hervorragende Studienleistungen in ihrem ersten Masterjahr gezeigt haben. Ausschlaggebend ist die Durchschnittsnote aller NIT-Kurse. Durch die Zuwendung der Dr. Dieter and Renate Liebich-Stiftung erhalten die Preisträger einen Geldpreis.
---
TUHH - Public Relations Office
Yasmin Wolkow
E-Mail: pressestelle@tuhh.de