We did it! Absolventenfeier an der TUHH mit Wissenschaftssenatorin Katharina Fegebank
28.11.2015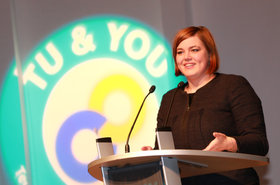 Raus aus der Uni, rein ins Leben: Rund 325 Absolventen der Technischen Universität Hamburg (TUHH) wurden am 27. November 2015 im Rahmen der 20. Absolventenfeier verabschiedet und nahmen persönlich ihre Schmuckurkunden entgegen. Die Feierstunde fand mit über 1.200 Gästen in der Friedrich-Ebert-Halle statt. Festrednerin des Abends war Katharina Fegebank, Wissenschaftssenatorin und Präses der Behörde für Wissenschaft, Forschung und Gleichstellung.
In akademischer Kleidung, mit traditionellen Roben, Schärpen und Baretten, zogen die Jung-Akademiker unter anhaltendem Applaus ihrer Familien und Freunde in die Friedrich-Ebert-Halle ein. Dort nahmen sie ihre Urkunden zum Bachelor of Science, Master of Science und Doktortitel in den Ingenieurwissenschaften entgegen. Vom 1. März bis 31. August 2015 haben insgesamt 571 Absolventinnen und Absolventen, davon 51 Doktorandinnen und Doktoranden ihren Abschluss an der TUHH gemacht. TUHH-Präsident Garabed Antranikian begrüßte das Auditorium herzlich. In seiner Rede würdigte er die Leistungen der Studierenden und betonte die sehr gute, aber auch herausfordernde Ingenieursausbildung an der TUHH: "Sie haben sich ein hervorragendes Rüstzeug erarbeitet, bestehend aus fachlichem Know-how und gesellschaftlich-sozialen Kompetenzen. Dazu wünsche ich Ihnen einen unerschütterlichen Optimismus und neugierigen Tatendrang, um die Fragen dieser Welt anzugehen. Ich entlasse Sie gerne und mit einem sehr guten Gefühl in diese komplexe und sich schnell wandelnde Berufswelt".

Festrednerin Katharina Fegebank schloss sich den Wünschen an. Sie beglückwünschte die Absolventinnen und Absolventen zu ihrem Abschluss. Eine solch schöne Feier hätte sie sich ebenfalls zu ihrem Studienende erhofft, die junge Menschen mit einem guten Gefühl in einen neuen Lebensabschnitt entlässt. Nun stünde ihnen, den jungen Wissenschaftlern, die Zukunft offen und Fegebank wies auf die Verantwortung hin, die diese Generation auch trägt. Ihr Handeln kann und wird Gesellschaft verändern, im technologischen wie auch im menschlichen Bereich. Sie gab den Nachwuchsakademikern mit auf den Weg, Werte zu finden, für die es sich lohnt, sich einzusetzen und mit denen sie Spuren hinterlassen.
Stellvertretend für alle Absolventen sprach Niklas Haupt aus dem Dekanat Elektrotechnik, Informatik und Mathematik ein Grußwort an die ehemaligen Kommilitonen und Gäste. Er ließ seine Studienzeit Revue passieren, gespickt mit kleinen Anekdoten. Und die TUHH zeigte, dass sie auch Musik kann: Der A-Capella-Chor SingING der TUHH und die Rock-Pop-Formation Heap of Harmony, ebenfalls aus der TUHH, leisteten ihren musikalischen Beitrag zum Abend. Höhepunkt war jedoch die Überreichung der Urkunden an die 325 Hauptakteure des Abends. Hierfür wurde jeder Absolvent und jede Absolventin namentlich auf die Bühne gebeten. Sie wurden von den jeweiligen Dekanen und Prüfungsausschussvorsitzenden sowie der Alumni-Koordinatorin Vera Lindenlaub und der Fest-Organisatorin Bärbel Müller, mit der Schmuckurkunde und einem Geschenk des Vereins "Alumni und Förderer der TUHH" geehrt. Dr. Dietmar Dunst, Leiter des Servicebereichs Lehre und Studium, führte auch dieses Jahr durch die Veranstaltung. Abschließend trafen sich alle Absolventinnen und Absolventen zum traditionellen Gruppenfoto mit Hutwurf.
See also: www.tuhh.de
---
TUHH - Public Relations Office