"Rethink. Rewire. Regrow.": TEDx zurück an der TUHH
18.11.2015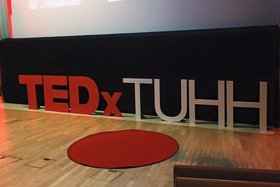 Umdenken, Neudenken, Andersdenken: Am 14. November fand der vierte TEDx-Talk an der Technischen Universität Hamburg (TUHH) statt. Dieses Jahr war das Thema der Konferenz "Rethink. Rewire. Regrow." Fast 600 Besucherinnen und Besucher füllten das Audimax I und hörten gespannt den 12 Vorträgen und der musikalischen Unterhaltung zu.
In zwei Gesprächsrunden, die von einer Networking-Pause unterbrochen wurden, konnten die Gäste zu den verschiedensten Themen interessante Vorträge hören. Sprecher wie Marc Hauser, Christoph Schumann und Anna Förster waren in diesem Jahr dabei und sprachen unter anderem über Demokratie in Schulen und warum es wichtig ist, seine Träume zu benennen und auch zu leben. "Welche Bedeutung möchte ich meinem Leben geben?" fragte Christoph Schumann während seines Vortrages "Democracy in schools" bei dem es um die "Freien Schulen" ging, in denen Kinder lernen können, was sie möchten. Mit dem Satz "Ich wünsche euch den Mut, eure Träume zu benennen" schloss Marc Hauser seinen motivierenden Vortrag "The power of naming your dreams". Am Ende der ersten Vortragsrunde unterhielt Sängerin Kuoko das Publikum mit elektronischer Tanzmusik. In der Pause gab es Getränke und Snacks und die Teilnehmenden tauschten sich aus. In der zweiten Vortragsrunde schilderte Alexander Strauss von Clowns without Borders wie ihn die Kinder, mit denen er weltweit arbeitet, inspirieren. Tobias Boeing stellte während seines Vortrages "Connecting urban space to nature" das Project "Hilldegarden" vor, bei dem der Bunker nahe der hamburgischen U-Bahn Station Feldstraße in eine öffentliche Parkanlage umfunktioniert werden soll.
Die TEDx-Initiative gibt jedem weltweit die Möglichkeit, TED ähnliche Konferenzen zu veranstalten. TED ist eine gemeinnützige Organisation, die vor 26 Jahren in Kalifornien gegründet wurde und bei deren Veranstaltungen neue Ideen vorgestellt und entwickelt werden. Auch Gordon Brown, Bill Gates und Isabel Allende haben bereits bei TED-Konferenzen mitgewirkt. Ziel der Veranstaltungen ist es, mit kurzen, mitreißenden Vorträgen unkonventionelle Gedanken zu verbreiten. Seit 2012 organisiert eine studentische Gruppe der TUHH die unabhängigen TEDx-Veranstaltungen an der TUHH. Die Idee dazu hatte Niels Hackius, wissenschaftlicher Mitarbeiter am Institut für Logistik und Unternehmensführung.
---
TUHH - Public Relations Office
Yasmin Wolkow
E-Mail: pressestelle@tuhh.de