Startup Dock der TUHH startet UniPitch 2015 im Millerntor - EXIST-Workshop an der TUHH
15.10.2015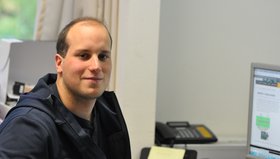 Mehr Gründungen braucht das Land: Um Gründer an Hochschulen und Forschungseinrichtungen zu bestärken fand am 12. und 13. Oktober 2015 der 30. EXIST-Workshop für Gründungsunterstützer des bundesweiten EXIST-Netzwerks in Hamburg statt. Mehr als 130 Teilnehmende aus EXIST-Initiativen an deutschen Hochschulen tauschten sich in verschiedenen Arbeitsgruppen zum Thema "Wirkung der Gründungsförderung in Hochschulen und Regionen sowie Ansatzpunkte für Wirkungssteigerungen" aus. Veranstaltungsort war die TUHH und das Millerntor-Stadion, Spielstätte des FC St-Pauli.
Zur Eröffnung des EXIST-Workshops sprachen der TUHH-Präsident Prof. Dr. Garabed Antranikian, Prof. Dr. Christoph Ihl, Academic Director des Startup Docks der TUHH und Leiter des TUHH Institute of Entrepreneurship (TIE) sowie Martin Mahn, Geschäftsführer der TuTech Innovation GmbH, dem Technologietransfer-Dienstleistungsunternehmen der TUHH. Die Arbeitsgruppen beschäftigten sich unter anderem mit Themen wie Professionalisierung der Beratung und Gründungsförderung und der Auswirkung von Gründungsunterstützung durch Hochschulen für die jeweilige Region. Organisiert wurden die Workshops durch das 2013 gegründete Startup Dock der TUHH. Es berät, coacht und fördert Studierende, Wissenschaftlerinnen und Wissenschaftler auf dem Weg zum eigenen Startup. Ziel ist es, aus dem wissenschaftlichen Potenzial technologieorientierte Innovations- und Gründungsprojekte entstehen zu lassen und eine lebendige Gründungskultur auf dem Campus zu schaffen.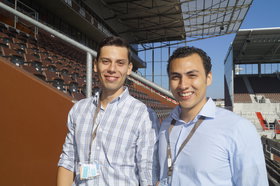 Parallel zum EXIST-Workshop fand im Millerntor-Stadion der UniPitch mit über 300 Teilnehmerinnen und Teilnehmern statt. Es ist ein gemeinsames Gründer-Event der Hamburger Hochschulen und Forschungseinrichtungen, des Gründungszentrums der Handelskammer und nextMedia.Hamburg. Gründungsinteressierte, Gründer und Förderer nutzten die Gelegenheit sich kennen zu lernen. Neben Vorträgen stellten an diesem Abend acht junge Gründer in einem Live-Pitch-Coaching ihre Ideen auf der Bühne vor. Gewonnen hat der 23-jährige TUHH-Student Lars Grundhöfer mit MicroMo. Er überzeugte mit seiner Modellbahnsteuerung zum Anfassen. Haptik statt Wischen. Ein Prinzip, dass der Jury gefallen hat und sich auch auf andere Märkte übertragen lassen könnte, wie beispielsweise im Bereich der Lautstärkenregelung. Das Preisgeld über 500 Euro für den besten Pitch teilte er sich mit Roland Becker von flow.socia. Mit dabei waren zwei Studierende des NIT Northern Institute of Technology Management. Die Mexikaner Rodrigo Hortega de Velasco (links) und Alejandro Espinoza Borrego stellten ihre gemeinsam entwickelte Handy-App SWALK vor, die Nutzer in unsicheren, gefährlichen Regionen sicher zu ihrem Ziel führen soll.
---
TUHH - Public Relations Office
Martina Brinkmann
E-Mail: pressestelle@tuhh.de