TUHH-Semestereröffnungsfeier für Internationale Studierende des Wintersemesters 2015/16
DAAD-Preisträger 2015 ist Moses Ogun Kolade
09.10.2015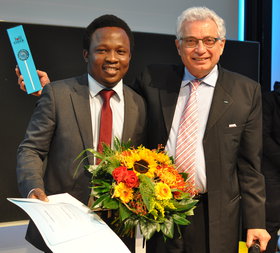 Rund 310 internationale Studierende hieß TUHH-Präsident Garabed Antranikian am Freitag, 9. Oktober 2015, an der Technischen Universität Hamburg (TUHH) willkommen. Ebenfalls begrüßte Professor Christian Ringle. Director of International Affairs der TUHH, die neuen Studierenden und ermunterte sie, die vielfältigen Angebote der TUHH zu nutzen. An der Feier teil nahmen neben 180 englischsprachigen Master-Studierenden, die sich für einen der zehn international ausgerichteten englischsprachigen Masterstudiengängen entschieden haben, 80 Austauschstudierende sowie rund 50 internationale Studierende, die im Wintersemester 2014/15 einen deutschsprachiges Masterstudium aufnehmen. Umfassende Informationen erhielten die Studierenden über diverse Angebote der TUHH. Vorgestellt wurden die RobotING AG, die humanoiden Robotern das Fußballspielen beibringt, das Malprojekt ArtRoom, der AStA der TUHH (Allgemeiner Studierendenausschuss) sowie Angebote des Hochschulsports Hamburg. Auch präsentierte sich die der TUHH angeschlossene Business School "NIT Northern Institute of Technology Management in Hamburg". Die SingING AG begeisterte mit ihrem Auftritt die neuen Studierenden.
Fester Programmpunkt innerhalb der Willkommensfeier ist die jährliche Verleihung des mit 1.000 Euro dotierten Preises des Deutschen Akademischen Austauschdienstes (DAAD) an herausragende ausländische Studierende. Der Preis belohnt deren außerordentliche Studienleistungen als auch ihr außergewöhnliches soziales wie interkulturelles Engagement. DAAD-Preisträger 2015 ist der Nigerianer Moses Ogun Kolade. Seinen Masterabschluss im Fach Environmental Engineering (Umwelttechnik) hat er 2013 an der TUHH gemacht. Derzeit ist er wissenschaftlicher Mitarbeiter am Institut Abwasserwirtschaft und Gewässerschutz und arbeitet an seiner Promotion.
Die Laudatio hielt TUHH-Präsident Garabed Antranikian: "Wir haben Herrn Ogun Kolade als engagierten und kreativen Studenten kennengelernt, der sich neben seinem Promotionsstudium in vielfältigen Funktionen im Bereich der Integrationsarbeit verdient gemacht hat. Er setzt sich vorbildlich für die Belange seiner Kommilitonen und Kommilitoninnen ein. Herrn Ogun Kolades großer persönlicher Einsatz soll mit der Verleihung dieses Preises gewürdigt werden und ich freue mich sehr, ihm den Preis übergeben zu können."
Umfangreich sind die ehrenamtlichen Tätigkeiten des Preisträgers. Er ist Vorsitzender der afrikanischen Studierendenorganisation ASTO an der TUHH. Diese Gruppe widmet sich der Betreuung neuer afrikanischen Studentinnen und Studenten und bietet Unterstützung zum besseren Einstieg in Studium und Lehre. Er betreut Übungen, Seminare, Tutorien, Bachelor- und Masterarbeiten, organisiert Partys und Ausflüge für seine Landsleute. Außerdem ist Moses Ogun Kolade dabei, ein Hochschul-Netzwerk für afrikanische Studierende zu entwickeln. Sein im Studium erlangtes Wissen will er in seiner Heimat einbringen. "Mit dem, was ich an der TUHH gelernt habe, bin ich gut darauf vorbereitet, in Afrika und anderen Entwicklungsländern zu arbeiten," so der Preisträger. Wenn ihm neben seinem umfangreichen Engagement für andere Dinge noch Zeit bleibt, dann spielt er Gitarre, tanzt oder lernt im Internet.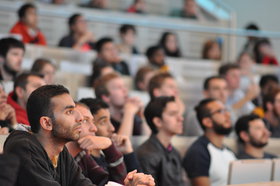 Der Gewinn, den internationale Studierende für Hochschule und Gesellschaft bedeuten, wird in Teilen der Öffentlichkeit nicht immer erkannt und gewürdigt. Auch aus diesem Grund hat der DAAD schon vor mehr als zehn Jahren den Hochschulen angeboten, ihre besten ausländischen Studierenden mit einem DAAD-Preis zu ehren. Bei der Auswahl der Preisträger und Preisträgerinnen spielen gleichermaßen die akademischen Leistungen wie auch gesellschaftliches, soziales oder kulturelles Engagement die entscheidende Rolle.
---
TUHH - Public Relations Office
Martina Brinkmann
E-Mail: pressestelle@tuhh.de