Chinesisch-Deutsche Sommerschule "Bioprocess and Biosystems Engineering for Industrial Biotechnology" an der TUHH
28.09.2015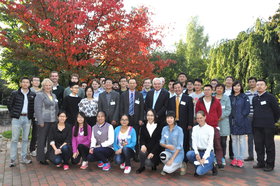 An der Technischen Universität Hamburg (TUHH) findet vom 27. September bis 10. Oktober 2015 die internationale Sommerschule " Bioprocess and Biosystems Engineering for Industrial Biotechnology" an der TUHH und bei der DECHEMA in Frankfurt statt. Die Sommerschule ist die erste im Bereich der industriellen Biotechnologie. Sie wird vom Chinesisch-Deutschen Zentrum für Wissenschaftsförderung, einer gemeinsamen Organisation der Deutschen Forschungsgemeinschaft (DFG) und der National Natural Sciences Foundation of China (NSFC), unterstützt. Erwartet werden 18 chinesische und 28 deutsche Teilnehmerinnen und Teilnehmer. Die Organisatoren sind Prof. Dr. An-Ping Zeng vom TUHH-Institut für Bioprozess- und Biosystemtechnik und Prof. Dr. Tianwei Tan von der Beijing University of Chemical Technology.
Die Sommerschule will die gesamte Breite bei der Entwicklung neuer und effizienter Bioproduktionsysteme abdecken. Hierzu gehören Themen wie die System- und synthetische Biologie, Stoffwechsel- und Proteinengineering, Biokatalyse, Gestaltung und Steuerung Bioreaktoren und die Bioproduktaufarbeitung. Aber auch aktuelle Themen wie die Bioraffinerie und Bioprozess-Integration stehen auf der Agenda. Zur Vermittlung des Stoffes werden neue Methoden des Lehrens und Lernens wie das "Problemorientierte Lernen" eingesetzt. Teilnehmende haben so die Möglichkeit, in Teams an der Entwicklung von Konzepten zur Lösung reale Probleme in der industriellen Biotechnologie zu arbeiten. Hierzu wurden Wissenschaftler aus beiden Ländern zu Vorträgen eingeladen. Ein wesentliches Ziel der Sommerschule ist es, den Austausch zwischen den Wissenschaftlern zu fördern und eine Kommunikationsplattform zu schaffen. Zum Abschluss werden die Teilnehmer am "Sino-German Symposium on Biobased Chemicals and Biorefinery" vom 7.-10. Oktober 2015 in Frankfurt/Main teilnehmen. Ein butes Rahmenprogramm rundet die Sommerschule ab.
"Bioprocess and Biosystems Engineering for Industrial Biotechnology" an der Technischen Universität Hamburg (TUHH, 27.9.-6.10.2015) und bei der DECHEMA, Frankfurt (7.10.-10.10.2015).
Weitere Informationen: Cornelia Hoffmann, c.hoffmann@tuhh, 040-42878-3217
---
TUHH - Public Relations Office
Jasmine Ait-Djoudi
E-Mail: pressestelle@tuhh.de
Phone: +49 40 428 78 3458