Ehemalige TUHH-Wissenschaftlerin Nicole Richter wird erfolgreich habilitiert
23.09.2015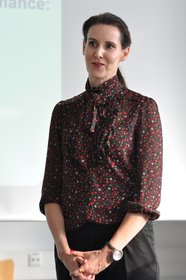 An jeder Universität ist das Kolloquium im Habilitationsverfahren ein schöner Moment. Nach dessen erfolgreichem Abschluss wurde der ehemaligen TUHH-Nachwuchswissenschaftlerin Dr. rer. pol. Nicole Richter der akademische Grad einer habilitierten Doktorandin verliehen und damit verbunden die Erlaubnis erteilt, an Hochschulen zu lehren. Richter habilitierte mit einer kumulativen Habilitationsschrift bestehend aus zehn fast ausschließlich hochrangig publizierten Veröffentlichungen bei Professor Dr. Christian Ringle am TUHH-Institut für Personalwirtschaft und Arbeitsorganisation im Themengebiet "Erfolgsfaktoren im internationalen strategischen Management".
Darin ging die Betriebswirtin Fragen nach wie: Welche Organisationsstrukturen führen multinationale Unternehmen zum Erfolg? Was ist ursächlich für den Erfolg von internationalen strategischen Allianzen? Was muss das Personalmanagement tun, um Mitarbeiter und Mitarbeiterinnen mit unterschiedlichem kulturellen Hintergrund zu motivieren? Was sind die Faktoren für den Erfolg globaler Einkaufaktivitäten? Richter lehrt bereits seit einem Jahr an der Nordakademie - Hochschule der Wirtschaft. Sie hat dort die Professur für Internationales Management und Marketing inne und ist Studiengangleiterin für das Masterprogramm Marketing and Sales Management M.A.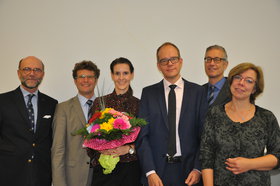 Das Kolloquium war der letzte Schritt zur Erreichung der höchsten akademischen Qualifikation. "Der Qualifikationsausschuss hat bereits entschieden, dass die schriftliche Leistung in vollem Umfang den Anforderungen entspricht. Jetzt geht es noch darum, im Kolloquium zu zeigen, dass Frau Richter eine wissenschaftliche Diskussion erfolgreich führen kann", so TUHH-Professorin Kathrin Fischer, Leiterin des Instituts für Quantitative Unternehmensforschung und Wirtschaftsinformatik sowie Vorsitzende des Habilitationsausschusses. Richters Vortrag trug den Titel "International Strategy and Structure Effects on Performance – Achieving Excellence in Global Sourcing". Erste wissenschaftliche Erfolge hatte die neue Professorin bereits während ihrer früheren Tätigkeit an der Universität Hamburg zu vermelden. Ihre dort am Institut für Industrielles Management bei Professor Dr. Karl-Werner Hansmann verfasste Dissertation "Internationalisation and Firm Performance – an Empirical Analysis of German Manufacturing Firms" wurde 2013 von der Wolfgang-Ritter-Stiftung ausgezeichnet. Während ihrer Zeit an der TUHH initiierte sie internationale Forschungskooperationen und wurde dabei von der Deutschen Forschungsgemeinschaft finanziell unterstützt.
---
TUHH - Public Relations Office
Martina Brinkmann
E-Mail: pressestelle@tuhh.de