BIG TUHH BAND SwingING Jazzkonzert der Extraklasse mit Lennart Axelsson und Bobby Shew
24.09.2015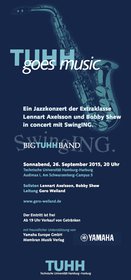 Im Mittelpunkt des Konzerts der TUHH Big Band SwingING stehen am Sonnabend, 26. September 2015, ab 20 Uhr zwei Jazz-Trompeter von Weltruf. Es sind der Schwede Lennart Axelsson und der Amerikaner Bobby Shew - zwei alte Weggefährten, die zusammen kommen, um noch einmal ihre geballte Brillanz auf die Bühne zu bringen. Sie spielen Titel aus dem neu von Axelsson erschienenen Soloalbum "All the things you are". Begleitet werden sie vom swingenden Sound der Big TUHH Band unter Leitung von Gero Weiland. Veranstaltungsort ist das Audimax I, Gebäude H, Am Schwarzenberg-Campus 5, 21073 Hamburg. Der Eintritt ist frei, Einlass ab 19 Uhr.
Seine erste CD unter eigenem Namen legte Axelsson kurz vor seinem 74. Geburtstag in diesem Jahr vor und startet damit seine Solo-Karriere. Fans der NDR Bigband ist er bekannt als ehemaliger Lead-Trompeter des Orchesters. Der einstige Kollege und Posaunist Joe Gallardo hat ihm dafür vierzehn Highlights im Bigband-Stil arrangiert. Darunter sind Songs wie "All the things you are", "Doxy" von Sonny Rollins und "Shadow of your smile" sowie Latino-Klassiker und Eigenkompositionen. Unterstützt wird der Jazz-Abend durch die Yamaha Euro GmbH und dem Membran Musik Verlag.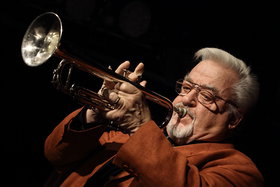 Info: Bereits am Sonnabend Vormittag findet im Audimax 1 ein Workshop mit Bobby Shew statt, der Interessierten und jungen Musikern und Musikerinnen wertvolle Hinweise und Erläuterungen zu seinen außergewöhnlichen Fähigkeiten auf der Trompete gibt. Yamaha zeigt parallel ausgewählte Instrumente, die teilweise von Bobby Shew mitentwickelt wurden. Anmeldungen nimmt entgegen: Timo Hänf, Yamaha Music Europe GmbH, Tel. 0049.4101.303209. Ebenfalls dabei ist der Instrumentenbaumeister Tobias Wagner, der innovative Lösungen für kleine und große Probleme der Blechbläser parat hat.
http://www.lennart-axelsson.de/
http://www.bobbyshew.com/main.html?pgid=4
---
TUHH - Public Relations Office
Martina Brinkmann
E-Mail: pressestelle@tuhh.de