2. Internationale Summerschool "Frontiers in Modeling of Multiphase Flows" an der TUHH
02.09.2015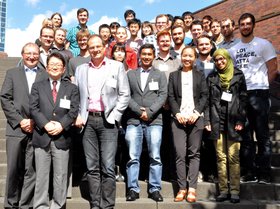 Vom 2. bis 4. September findet die internationale Summerschool "Frontiers in Modeling of Multiphase Flows" ihre Fortsetzung an der Technischen Universität Hamburg (TUHH). Die Summerschool ist ein Angebot des Instituts für Mehrphasenströmungen (IMS) in Kooperation mit dem Institut für Feststoffverfahrenstechnik und Partikeltechnologie (SPE) sowie der Graduiertenakademie für Technologie und Innovation der TUHH. Unterstützung erfährt die Summerschool dieses Jahr außerdem durch die Deutsche Forschungsgemeinschaft.
Zum ersten Mal wurde die Summerschool in 2014 ausgerichtet. Ihr Ziel ist es, jungen Forscherinnen und Forschern einen tieferen Einblick in Mehrphasenströmungen mit Gasblasen, Flüssigkeitstropfen oder Feststoffpartikeln zu geben. Der interdisziplinäre Ansatz erlaubt es den Teilnehmern und Teilnehmerinnen, Synergien zwischen experimenteller Untersuchung, Modellierung und numerischer Strömungssimulation zu entdecken. Gleichzeitig bietet die Summerschool den Nachwuchswissenschaftlerinnen und Nachwuchswissenschaftlern die Chance, durch die Begegnungen mit den Dozenten und Teilnehmern ihr persönliches akademisches und berufliches Netzwerk auszubauen", hebt Professor Dr.-Ing. Michael Schlüter, Leiter des IMS, die zukünftige Bedeutung der Summerschool für die Teilnehmer hervor.
Die Teilnehmerinnern und Teilnehmer kommen auch dieses Jahr wieder von Universitäten und Forschungseinrichtungen aus dem gesamten Bundesgebiet sowie dem Internationalen Masterstudiengang "Chemical and Bioprocess Engineering"der TUHH. Ganz besonders freut sich Schlüter auf die Gäste aus Japan: Die Keio University ist vertreten mit neun Studierenden und zwei ihrer Dozenten, die das Programm durch Vorlesungen mitgestalten. Das Programm ist in Blöcke für Einsteiger und Fortgeschrittene im Fachgebiet Mehrphasenströmungen und Feststoffverfahrenstechnik mit parallelen Vorlesungen und Laborpraktika unterteilt. Zusätzlich runden namhafte Referenten aus der Industrie mit Vorträgen aus der Praxis das Programm ab.
Weil junge Forscher darüber hinaus fachübergreifende Kompetenzen besitzen müssen, wird in einem Workshop erarbeitet, wie eigene Forschungsergebnisse optimal präsentiert werden können. "Wissenschaft muss ihre Ergebnisse auch vermitteln können" sagt hierzu Dr. Krista Schölzig, Koordinatorin der TUHH-Graduiertenakademie.
Eine Tour über den Campus und ein abwechslungsreiches "After-School"-Programm ergänzen die drei Tage für Studierende und Doktoranden. Hierbei soll das typisch deutsche Grillfest an der TUHH, der Besuch einer Hamburger Privatbrauerei und die Führung durch das UNESCO-Weltkulturerbe "Hamburger Speicherstadt" die jungen Nachwuchswissenschaftlern auch zum interkulturellen Austausch animieren. Ihren Abschluss findet die Summerschool bei einer Posterpräsentation und der feierlichen Übergabe der Teilnahme-Zertifikate durch die wissenschaftliche Leiterin der TUHH-Graduiertenakademie, Professorin Irina Smirnova.
Interessierte sind herzlich zur Teilnahme an der Posterpräsentation im Foyer des Hauptgebäudes am Freitag, den 4. September ab 14:00 Uhr eingeladen. Weitere Informationen: Heike Wessling, M. A., heike.wessling@tuhh.de, Tel. 040.42878.2603
Info:
Von der Technischen Universität Hamburg (TUHH) initiiert, fördert die Deutsche Forschungsgemeinschaft (DFG) seit 2014 das Schwerpunktprogramm "Einfluss lokaler Transportprozesse auf chemische Reaktionen in Blasenströmungen". Für das Programm SPP 1740 stellt die DFG insgesamt rund 10 Millionen Euro zur Verfügung. Wissenschaftlerinnen und Wissenschaftler forschen an 13 Standorten in Deutschland zu 19 ausgewählten Einzelprojekten. Professor Michael Schlüter, Leiter des Instituts für Mehrphasenströmungen, ist Koordinator des Programms. http://www.dfg-spp1740.de
Seit 2013 läuft das Schwerpunktprogramm "Dynamische Simulation vernetzter Feststoffprozesse" SPP 1679; im Juli 2015 hat die zweite Förderperiode begonnen. Für das Programm SPP 1679 stellt die DFG insgesamt rund 14 Millionen Euro zur Verfügung. Wissenschaftlerinnen und Wissenschaftler forschen an 15 Standorten in Deutschland zu 29 ausgewählten Einzelprojekten. Professor Stefan Heinrich, Leiter des TUHH-Instituts für Feststoffverfahrenstechnik und Partikeltechnologie, ist Koordinator des Programms. http://www.dynsim-fp.de/spp-1679.html
---
TUHH - Public Relations Office
Martina Brinkmann
E-Mail: pressestelle@tuhh.de