Best Poster-Award an TUHH-Doktoranden
13.07.2015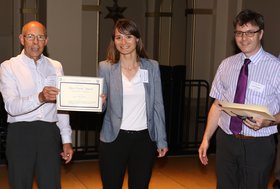 Auf der Fachtagung "7th International Granulation Workshop", in Sheffield, Großbritannien, sind zwei Doktoranden vom Institut für Feststoffverfahrenstechnik und Partikeltechnologie der Technischen Universität Hamburg (TUHH) mit dem Best Poster-Award ausgezeichnet worden. Von 120 Postern belegte M.Sc. Eduard Eichner für seine Arbeit "Fabricating of hierarchically assembled ceramic-polymer composites using a spouted bed spray granulation process" den mit 300 Pfund dotierten ersten Platz und Dipl.-Ing. Anna Porowska für ihren Beitrag "Predicting the surface composition of a spray dried particle by modelling component reorganization in a drying drop" den als "Best Application to Industry" den mit 100 Pfund versehenen dritten Platz.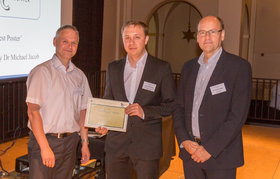 Der Beitrag von Eduard Eichner entstand im Rahmen einer Kooperation mit dem TUHH-Institut für Keramische Hochleistungswerkstoffe, unter der Leitung von Professor Gerold Schneider, innerhalb des SFB 986 "Maßgeschneiderte Keramische Hochleistungswerkstoffe". Sie widmet sich der Möglichkeit, mittels eines neuartigen Beschichtungsverfahrens in einer Strahlschicht hierarchisch strukturierte Keramik-Polymer-Kompositpartikel bzw. Bauteile herzustellen, die aufgrund ihrer speziellen Struktur eine besondere Festigkeit und Bruchzähigkeit besitzen. Diese speziellen Eigenschaften machen sie für technische Anwendungen interessant.
Anna Porowska hat in einem gemeinsamen Forschungsprojekt mit der Firma Nestlé den komplexen Entstehungs- und Transportprozess der Proteinverkapselung von Partikeln während der Sprühtrocknung analysiert und mit mathematischen Methoden und neuartigen Experimenten zugänglich gemacht. Ihre Ergebnisse werden bereits von Nestlé angewendet und helfen, die Auslegung derartiger Multikomponenten-Prozesse sicherer und besser vorhersagbar zu gestalten.
Der alle 2 Jahre stattfindende "International Granulation Workshop" ist die größte Fachtagung auf dem Gebiet der Granulation, Agglomeration, Beschichtung und Verkapselung von Partikeln und Feststoffen im Bereich der pharmazeutischen, chemischen, keramischen, biotechnologischen und Lebensmittelindustrie.
https://www.sheffield.ac.uk/agglom/2015
---
TUHH - Public Relations Office
Jasmine Ait-Djoudi
E-Mail: pressestelle@tuhh.de
Phone: +49 40 428 78 3458