Analytisches Denken ausgezeichnet: TUHH-Studierende belegen zweiten Platz auf der PEMA
22.06.2015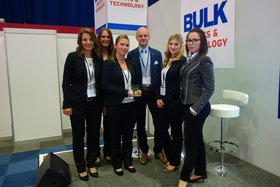 Studierende des Masterstudiengangs Logistik, Infrastruktur und Mobilität der Technischen Universität Hamburg (TUHH) setzten sich in der PEMA-Students Challenge durch und belegten den zweiten Platz. Der Wettbewerb fand Anfang Juni auf der Terminal Operations Conference TOC Europe, im Rahmen der internationalen Port Equipment Manufacturers Association, kurz PEMA, in Rotterdam statt. In diesem Wettbewerb wird die beste Aufgabenlösung ausgezeichnet. Die PEMA ist ein Forum der weltweiten Hersteller und Zulieferer von
Hafenequipment und Hafentechnologie.
Die dritte PEMA Student Challenge widmete sich dem Thema "Impact and Mitigation of Berth Error" mit der Fragestellung: Was passiert, wenn der Liegeplatz eines Schiffes bereits belegt ist, die Ladung aber gelöscht werden muss? Ein logistischer Kraftaufwand. Hierbei handelt es sich um das Problem, dass ein für ein bestimmtes Schiff vorher festgelegter Liegeplatz aufgrund einer Ankunftsverzögerung schon durch ein anderes Schiff belegt ist. Eine einfache und schnelle Nutzung eines neuen Liegeplatzes hätte hier aber weitreichende Auswirkungen auf die vor- und nachlaufenden Logistikprozesse. Das Studierenden-Team von Professor Carlos Jahn vom TUHH-Institut für Maritime Logistik analysierte den Logistikprozess und erarbeitet Vorschläge für die Verminderung von negativen Folgen des sogenannten"Berth Errors". Und das mit Erfolg: Alexandra Brockschmidt, Nathalie Ludwig, Katina Busse, Christina Pastor Brand, Julia Isabelle Werner und Daniel Frontzek stellten dem Fachpublikum und der Jury ihr Konzept Portainer Barge vor und konnten mit einer Lösung überzeugen: Eine große Barge ermöglicht mit einer Containerbrücke und Ladefläche ein unabhängiges und flexibles Entladen und Beladen von Schiffen im Hafenbereich.
Die nächste TOC findet 2016 vom 14.-16. Juni 2016 in Hamburg statt.
http://www.pema.org oder www.tocevents-europe.com.
See also: www.tuhh.de
---
TUHH - Public Relations Office
Jasmine Ait-Djoudi
E-Mail: pressestelle@tuhh.de
Phone: +49 40 428 78 3458