DB-Chef Dr. Rüdiger Grube ist Festredner der TUHH-Absolventenfeier
20.06.2015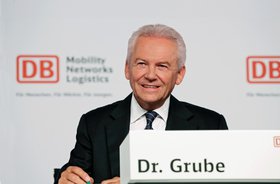 Jubelnd, mit Talar und Urkunde sind rund 380 Absolventen der Technischen Universität Hamburg (TUHH) am 19. Juni 2015 im feierlichen Rahmen verabschiedet worden. In der bis zum letzten Platz besetzten Friedrich-Ebert-Halle wurden sie von ihren Familien, Freunden und Angehörigen für ihre erfolgreiche Arbeit auf dem Weg hin zu ihrem Abschluss gebührend gefeiert und geehrt. Festredner des Abends war Dr. Rüdiger Grube, Vorstandsvorsitzender der Deutschen Bahn AG.
Mit Hut und Schärpe geschmückt zogen die erfolgreichen Akademiker unter anhaltendem Applaus in die Halle ein und nahmen ihre Urkunden zum Bachelor of Science, dem Master of Science, dem Diplom und Doktortiteln in den Ingenieurwissenschaften entgegen. Im Jahrgang 2015 haben insgesamt 672 Absolventinnen und Absolventen und davon 60 Doktorandinnen und Doktoranden ihren Abschluss an der TUHH gemacht. TUHH-Präsident Garabed Antranikian hieß die Geladenen willkommen: "Sie gehen gut gerüstet in die Zukunft. Sie verfügen über ein hervorragendes fachliches Know-how und, nach einem sehr fordernden und anspruchsvollen Studium auch über die Einsicht, dass Sie alles erreichen können, wenn Sie wollen". Er hob die Bedeutung des Studiums an der TUHH hervor: Nicht nur Fachwissen, Diversität und Interdisziplinarität seien elementare Bestandteile. Es gehe auch darum Netzwerke zu bilden und Herausforderungen zu meistern. Nicht nur zu Ingenieuren ausbilden wolle die TUHH, sondern auch die soziale Kompetenz entwickeln.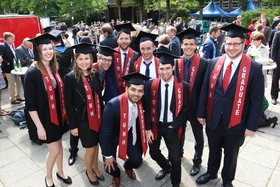 Festredner des Abends war der Vorstandsvorsitzende der Deutschen Bahn AG, Dr. Rüdiger Grube. Er hob in seiner Rede heraus, dass gerade Widerstände und Hürden wichtig für die persönliche Entwicklung seien. Dr. Rüdiger Grube wuchs in Hamburg-Moorburg auf einem Bauernhof auf und ist in Deutschland einer der wenigen Top-Manager, der es vom Hauptschüler bis zum Vorstandsvorsitzenden geschafft hat. Nach einer Lehre im Metallflugzeugbau studierte er in Hamburg Fahrzeugbau und Flugzeugtechnik, promovierte und nahm verschiedene Spitzenpositionen in der Wirtschaft ein, unter anderem bei Airbus und Daimler. Mut, Einsatzbereitschaft und Leidenschaft seien wesentliche Erfolgsfaktoren auf seinem Weg gewesen, erzählte der DB-CEO den Absolventen. "Gehen Sie mutig voran, wagen Sie Neues, hinterfragen Sie auch die Dinge und seien Sie Vorbild für andere", gab er den Absolventen und zukünftigen Führungskräften außerdem mit auf den Weg. Sein zentrales Führungsverständnis sei "down to earth". Wer hoch hinaus wolle, brauche vor allem eines: Bodenhaftung. "Termine mit unseren Kolleginnen und Kollegen im operativen Basisgeschäft sind für mich daher sehr wichtig" Dr. Rüdiger Grube ging auch auf die Digitalisierung ein, die bei der Deutschen Bahn mit sechs 4.0-Initiativen und rund 150 Projekten konzernweit kräftig vorangetrieben werde. In diesem Kontext betonte er, dass die Wirtschaft junge, gut ausgebildete Ingenieurinnen und Ingenieure sowie IT-Fachkräfte benötige, um den technischen Wandel in Zukunft zu gestalten. Die TUHH habe in der Hochschullandschaft in Deutschland eine exponierte Stellung und spiele auch hier eine wichtige Rolle.
Stellvertretend für die Absolventen hielt Mona Shargh, Absolventin des Dekanats Bauwesen, eine Ansprache mit einem Rückblick und Anekdoten aus dem Studierendenleben an der TUHH. Musikalisch begleitet wurde die Veranstaltung vom über Harburgs Grenzen hinweg bekannten Jugendchor Gospel Train. Der glanzvolle Höhepunkt war die Überreichung der Urkunden an die 380 Akteure des Abends. Hierfür wurde jeder Absolvent und jede Absolventin namentlich auf die Bühne gebeten. Sie wurden von den jeweiligen Dekanen und Prüfungsausschussvorsitzenden sowie dem Vorsitzenden des Vereins "Alumni und Förderer der TUHH", Professor Andreas Liese, der Alumni-Koordinatorin Vera Lindenlaub sowie der Fest-Organisatorin Bärbel Müller, mit der Schmuckurkunde und einem Geschenk des Vereins geehrt. Abschließend trafen sich alle Absolventinnen und Absolventen zum traditionellen Gruppenfoto mit Hutwurf.
See also: www.tuhh.de
---
TUHH - Public Relations Office
Jasmine Ait-Djoudi
E-Mail: pressestelle@tuhh.de
Phone: +49 40 428 78 3458