TUHH-Präsident auf Delegationsreise zu Deutsch-Arabischem Wasserforum in Jordanien
02.06.2015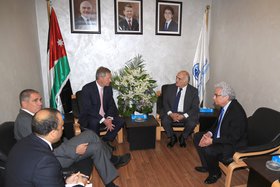 Der Präsident der Technischen Universität Hamburg (TUHH), Garabed Antranikian, ist vom 31. Mai bis zum 2. Juni 2015 auf dem Deutsch-Arabischen Wasserforum in Jordanien. Zur Delegationsreise eingeladen hat die Euro-Mediterranean Association for Cooperation and Development (EMA), unter der Schirmherrschaft von S.K.H Prinz Hassan bin Talal, Ehrenpräsident der EMA. Geleitet wird die Delegation von Christian Wulff, EMA-Präsident und Bundespräsident a.D. Ziel ist es, über die Wasserknappheit in arabischen Ländern zu informieren und Lösungsansätze zu finden. Das Forum bietet eine Austauschplattform zwischen Wasserunternehmen, Akteuren aus Wirtschaft und Politik und Vertretern regionaler und internationaler Organisationen für die deutsch-arabische Wasserkooperation.
Unter den 20 Ländern, die weltweit am stärksten von Wasserknappheit bedroht sind, sind 14 arabische, in denen selbst kleine Veränderungen des wirtschaftlichen, gesellschaftlichen und politischen Gefüges große Auswirkungen auf den Wassersektor haben. Angesichts des rasanten Bevölkerungswachstums, ausgelöst durch den starken Zustrom an Flüchtlingen, geraten die ohnehin knappen Wasserressourcen unter Druck. Industrie, Wasserversorgung und Landwirtschaft stehen in Konkurrenz um die knappen Wasserressourcen. Die Auswirkungen auf den Wassersektor sind bereits deutlich erkennbar: rapide sinkende Grundwasserspiegel, eine drohende Versalzung als Folge der Übernutzung sowie unregelmäßige und rationierte Wasserlieferungen und eine damit einhergehende Verschlechterung der sanitären Anlagen und Hygiene.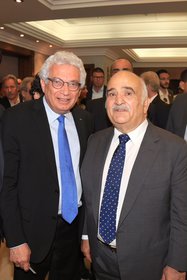 Das 3. Deutsch-Arabische Wasserforum dient dem Austausch arabischer und europäischer Führungspersönlichkeiten und Entscheidungsträgern aus Wirtschaft, Politik und Wissenschaft und hat sich die Förderung von öffentlich-privaten Partnerschaften im Wassersektor zugunsten der Verbesserung der angespannten Situation zum Ziel gesetzt. TUHH-Präsident Garabed Antranikian hält den Vortrag "Professional training in resource management and sustainability through modern teaching methods". Die TUHH unterhält bereits intensive Beziehungen mit Universitäten in Jordanien im Bereich der Forschung und Lehre und ist dort regelmäßig zu Gast. Auf dem Forum präsentierte Garabed die Forschungsarbeiten an der TUHH rund um das Thema Wasser. Ferner stellte er Projekte wie die Hamburg Open Online University als Beispiel für ein neues Lehr- und Lernkonzept vor, das beispielsweise in Jordanien für die Weiterbildung junger Menschen eingesetzt werden kann. Garabed hat Prinz Hassan bin Talal und den EMA-Präsidenten Christian Wulff an die TUHH eingeladen, um über mögliche Kooperationen im Bereich Umweltschutz und Wasserwirtschaft zu diskutieren.
www.tuhh.de
www.ema-hamburg.org
---
TUHH - Public Relations Office
Jasmine Ait-Djoudi
E-Mail: pressestelle@tuhh.de
Phone: +49 40 428 78 3458