TUHH-Sommer-Wettkampf 2015: Teams gesucht!
22.04.2015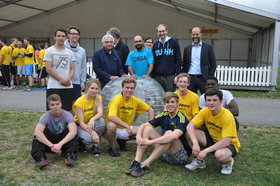 Es ist wieder soweit: Für den TUHH-Sommer-Wettkampf am 20. Juni 2015 sucht der Hochschulsport noch Teams! Sportbegeisterte in sechs Disziplinen werden in diesem Jahr auf dem Rathausmarkt in Harburg ihr Bestes geben. Noch größer, noch prominenter, noch mehr Action und dieses Jahr auch internationale Teams – das verspricht der Sommer-Sechskampf 2015!
Gesucht werden Teilnehmerinnen und Teilnehmer mit Spaß am Sport und Partylust! Die Teams können selbstständig zusammengestellt werden und treten gegen andere Teams in sechs lustigen und spannenden Disziplinen an. Es geht dabei nicht nur um die Ehre, sondern auch um den Wanderpokal! Gemischte Teams sind herzlich willkommen!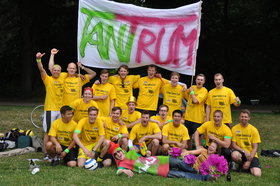 Die Disziplinen:
Soccer: Fußball auf dem Kleinfeld mit 5 Feldspielern und einem Torwart.
Beachvolleyball: Hier sind die Sandkastenexperten im "6 gegen 6" gefordert. Dieses Jahr auf 2 Feldern!
Streetball:Basketball back to the Roots. Beim "3 gegen 3" unterm Korb geht es richtig zur Sache.
Sommer-Biathlon: Mit Lasergewehren gehts bei dieser Staffel ab.
Tauziehen: Hier kommt die Urgewalt zum Tragen.
Wasser-Challenge… wird noch nicht verraten!
Informationen und Anmeldung
http://achtung-wildwechsel.com/sechskampf/
http://hsp-hh.sport.uni-h … mmer-Sechskampf_2015.html
---
TUHH - Public Relations Office
Jasmine Ait-Djoudi
E-Mail: pressestelle@tuhh.de
Phone: +49 40 428 78 3458