TUHH-Doktorand Arne Hothan löst das Geheimnis um quietschende Hüftprothesen
Für seine fachlich außergewöhnliche Arbeit erhält er den AE-Preis 2011
16.12.2011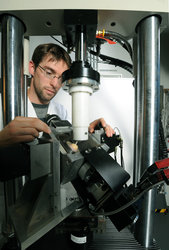 Quietschende und knackende Hüftprothesen aus Keramik können zu einem lästigen Problem für Träger und Mitmenschen werden. Speziell in den USA und Australien hat das zu einem Einbruch beim Einsatz von keramischen Komponenten geführt hat. Dass nicht die Keramik Grund des nervigen Geräuschs ist, konnte Arne Hothan vom TUHH-Institut für Biomechanik nachweisen.
Für seinen fachlich ausgezeichnete Arbeit mit dem Titel "The influence of component design, bearing clearance and axial load on the squeaking characteristics of ceramic hip articulations" hat der 32-Jährige in Berlin den hoch dotierten AE-Preis 2011 erhalten. Ausgeschrieben hatte den Preis die Arbeitsgemeinschaft Endoprothetik (AE) als Auszeichnung für eine innovative wissenschaftliche Arbeit auf dem Gebiet der Endoprothetik.
Unter elf hochkarätigen Arbeiten wurden drei als gleichwertig beste beurteilte Manuskripte von der Jury für den ersten Platz gewertet. Den über 15000 Euro ausgelobten Preis teilen sich die Preisträger.
Der Maschinenbau-Ingenieur Hothan weist in seiner im "Journal of Biomechanics 2011" publizierten Arbeit nach, dass nicht die Keramikteile der Prothese direkt an der Geräuschentwicklung beteiligt sind, sondern die Schwingungen des Prothesenschafts vernehmbar klingen. "Es ist der Schaft der Hüftprothese, der durch Reibung von Hüftpfanne und Hüftkopf in Schwingungen gerät – ähnlich einer Gitarrenseite", so der 32-jährige gebürtige Hannoveraner, der seit 2006 bei Professor Michael Morlock am TUHH-Institut für Biomechanik promoviert.
Jedoch sei die Keramik bei ungünstigen Rahmenbedingungen für die hohe Reibung im Gelenk verantwortlich, welche die Voraussetzung für die notwendige Systemanregung darstelle, so Hothan. Seine Veröffentlichung ist Teil seiner Dissertation, deren Abschluss noch im Dezember zu erwarten ist. Im Rahmen dessen hat Hothan einen Simulator entwickelt, mit dem sich das Quietschen im Hüftgelenk erzeugen und bewerten lässt.
Allerdings, so Arne Hothan, sei das Quietschen nicht allein ein Komfortproblem, das vielmehr die Umgebung als störend empfinde als die Prothesenträger selbst. "Die erhöhte Reibung zwischen künstlichem Hüftkopf und Pfanne kann auf Dauer einen vermehrten Abrieb verursachen", sagt der junge Wissenschaftler, dessen Arbeit interessant für den medizinischen wie auch den ingenieurwissenschaftlichen Bereich ist. Diese Art der Geräusche entstände dann, wenn die Paarung – also Kopf und Pfanne – nicht gut eingepasst sei.
Ist eine optimale Einbausituation nicht gewährleistet, empfiehlt Hothan auf eine Kombination von Keramik und Polyethylen zurückzugreifen. Hingegen stellt bei einer guten Implantation das Material Keramik das Optimum in Bezug auf niedrige Reibung und Verschleißfestigkeit dar.
---
TUHH - Public Relations Office
Martina Brinkmann
E-Mail: pressestelle@tuhh.de