Bundesweites Förderprogramm: TU Hamburg besetzt elf Juniorprofessuren
Im Rahmen der WISNA-Förderung stärkt die Hochschule die Digitalisierung der Ingenieurwissenschaften
11.07.2023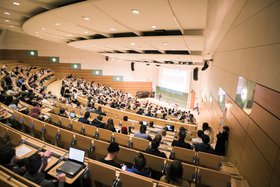 Die Technische Universität Hamburg hat im Rahmen des Bund-Länder-Programms für den wissenschaftlichen Nachwuchs (WISNA) bis Ende Mai 2023 elf neue Positionen besetzt. Zu ihnen gehören unter anderem die Leiterin der Arbeitsgruppe für Berufliche Bildung und Digitalisierung Maren Baumhauer, der Professor für Data-Driven Innovation Moritz Göldner, der Professor für Ethics in Technology Maximilian Kiener und der Leiter der Arbeitsgruppe Resilient and Sustainable Operations and Supply Chain Management Christian Thies.
Fünf der neuen Juniorprofessuren arbeiten eng mit bestehenden Instituten und werden Professor∗innen nachfolgen, die demnächst in den Ruhestand gehen: im Dekanat Management-Wissenschaften und Technologie, im Dekanat für Maschinenbau und im Dekanat für Technik und Innovation in der Bildung. Von den sechs neu geschaffenen Positionen sind fünf im Bereich Informatik angesiedelt - so wird zum einen die Digitalisierung der Ingenieurwissenschaften an der TU Hamburg gestärkt. Zum anderen zahlen die Berufungen auf die Ziele der Kooperation "ahoi.digital" der Hamburger Hochschulen für Informatik ein, an der die TU Hamburg ebenfalls beteiligt ist.
Mit dem WISNA-Programm soll die Tenure-Track-Professur breiter an den Universitäten in Deutschland etabliert werden. Der Bund stellt hierbei laut Bundesministerium für Bildung und Forschung eine Milliarde Euro bereit, um 1.000 zusätzliche Professuren zu fördern. Das Programm läuft bis 2032. Für viele junge Wissenschaftler∗innen soll der Weg zur Professur so erheblich transparenter und planbarer werden: Der Tenure-Track richtet sich an junge Wissenschaftler∗innen in der frühen Karrierephase. Wenn die Hochschule die eingerichteten Juniorprofessuren nach sechs Jahren positiv evaluiert, werden sie an der TU Hamburg zu W3-Professor∗innen ernannt.
"Wir freuen uns sehr über die durch das WISNA-Programm eingerichteten Juniorprofessuren", sagt der Präsident der TU Hamburg Andreas Timm-Giel. "Sie machen zehn Prozent der Professor∗innen der TU Hamburg aus und kommen mit neuen Ideen und internationalen Erfahrungen, die uns sicher bereichern werden. Die neuen Kolleg∗innen kommen gebürtig aus Frankreich, China, Brasilien und Deutschland und haben akademische Erfahrungen in Finnland, Großbritannien und Tschechien sammeln können. Teilweise mit Industrieerfahrung werden sie einen wertvollen Beitrag zur Weiterentwicklung unserer TU Hamburg leisten."
See also: https://ahoi.digital/ueber-uns/
---
TUHH - Public Relations Office
Kaja Weber
E-Mail: kaja.weber@tuhh.de