Food Process Engineering Day at the TU Hamburg
Inauguration of the Creative Food Lab supported by Nestlé
01.06.2022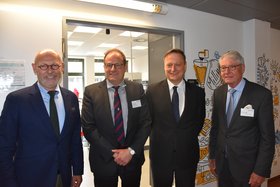 Scientists in food process engineering conduct research on various processes that are necessary in the production of food. For example, they use heat or cold to ensure a longer shelf life, or use bacteria and fungi to make products such as cheese.
One goal of the Institute of Solid-State Process Engineering and Particle TU Hamburg is to realize sustainable, healthy and novel food concepts. To this end, the institute works closely with industry, in particular with Nestlé. With its support, the new food laboratory "Creative FoodLab" has now been opened on the TU Hamburg campus. State-of-the-art table-top equipment enables the production of innovative particle-based product ideas at kitchen scale. The "Creative FoodLab" is to be used especially by students in the context of the lecture "Food Process Engineering". In the past, for example, there was already a student competition at the TU Hamburg on the topic of "Cold Brewed Coffee". The next competition will be held under the motto "Utilization of Side Streams".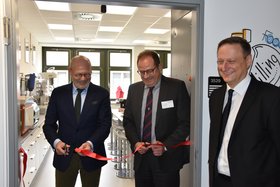 Professor Stefan Heinrich, Head of the Institute of Solid-State Process Engineering and Particle Technology at TU Hamburg, says: "I am very pleased that with the Creative FoodLab supported by Nestlé we are giving our young scientists in particular the opportunity to give free rein to their thirst for research and spirit of discovery. Thanks to the successful cooperation with Nestlé, ideas have the opportunity to be turned into real innovations for the food industry in this way."
The research cooperation between the TU Institute of Solid-State Process Engineering and Particle Technology and Nestlé Research and Development has existed for more than 14 years. Professor Stefan Palzer, member of the Executive Board (Chief Technology Officer and Executive Vice President) at Nestlé, has been lecturing in the field of "Food Process Engineering" since the winter semester of 2011 and has been an honorary professor with the School of Process Engineering at TU Hamburg since 2013. The collaboration focuses on joint doctoral research projects.
More info at: www.tuhh.de/spe/home.html
---
TUHH - Public Relations Office
Franziska Trede
E-Mail: franziska.trede@tuhh.de
Phone: +49 40 428 78 3458