Partnership agreement signed with Meckelfeld High School
25.11.2022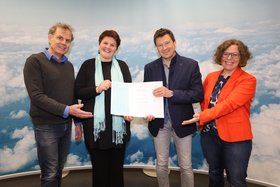 To inspire enthusiasm for technology-oriented subjects; to better understand mathematics, computer science and natural sciences at school; and to motivate students anew for the classroom by visiting laboratories at the Technical University of Hamburg are the goals of the partnership certificate that TU Hamburg presented to Meckelfeld High School in Seevetal.
With the support of the TU Hamburg, the level of knowledge in mathematics, computer science, natural sciences, technology (MINT subjects) is to be further improved. Pupils should be able to develop technical competence at an early stage. In addition to exclusive campus tours and laboratory visits, the partner school in Meckelfeld is given the opportunity to get to know everyday academic life with their school classes and to conduct exciting experiments. The children's researchers at TU Hamburg let children and young people experience the world of science and technology and show them in a playful way how science and technology determine our everyday lives. DLR_School_Lab and Robotics@TUHH invite students of higher grades to virtually take off into the world of aeronautics and space travel, navigate ships in the Port of Hamburg or program robots.
"I am delighted to once again be able to include Meckelfeld High School in the exclusive circle of our partner schools, as it is regarded as a high school in Lower Saxony with an outstanding profile in the field of mathematics and science in the STEM subjects," says Nina Schulte, contact person for schools, on the occasion of the certificate presentation. "I am also pleased that Meckelfeld Gymnasium is participating in NachwuchsCampus, a project for career and study orientation, together with our shipbuilding department."
In addition to Meckelfeld High School, this year Lessing High School in Norderstedt has also newly intensified its partnership with Hamburg Technical University. In total, the TU cooperates with around 50 schools in the metropolitan region, 30 of which are from Hamburg. By district, the municipality of Seevetal is a focal point of TU Hamburg's school partnerships. In 2022, well over 5,000 students∗ visited the TU campus with their teachers. The focus of the partnerships is generally on promoting young talent and is a long-term contribution to counteracting the shortage of skilled workers.
For more information about the TU Hamburg school program, visit: www.tuhh.de/schule/startseite
---
TUHH - Public Relations Office