Innovation boost for quantum technology
Martin Kliesch takes over endowed professorship for Quantum Inspired and Quantum Optimization at TU Hamburg
09.11.2022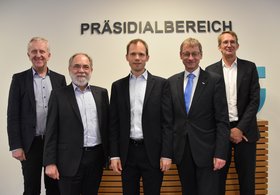 From the fight against climate change, to the environmentally friendly planning of international supply chains, to the production of urgently needed medicines: The challenges of our time are highly complex. This makes the need for innovative solutions for business, trade and administration all the more urgent, for example new hardware and software systems, quantum technology or cyber security measures. This is precisely where the new endowed professorship for Quantum Inspired and Quantum Optimization at the Technical University of Hamburg comes in. The goal of the professorship, which is financed by Fujitsu for ten years and supported by Dataport, is to accelerate the digital transformation.
Professor Martin Kliesch from Heinrich Heine University in Düsseldorf has been newly appointed to this position. There, the scientist was part of the "Quantum Technology" research group and was primarily concerned with the question of how to find out how well current quantum computers work. Since November 1, Kliesch has been applying his expertise in the TU's Office of the Dean of Studies for Electrical Engineering, Computer Science and Mathematics. In addition to collaborative basic research and new research initiatives, his focus is also on training new talent for academia and the digital economy. "In what applications can novel computing capabilities deliver the greatest advantage? And what's the best way to test that? These are core questions in my research. I am looking forward to taking on the endowed professorship at TU Hamburg and helping to advance research and teaching in the field of quantum technology. The collaboration with TU Hamburg, Fujitsu and Dataport clearly strengthens this potential," says Professor Martin Kliesch.
Science Senator Katharina Fegebank: "Our world is facing complex challenges and quantum technology is the key technology of our time. With it, we will be able to find solutions to the questions of today and tomorrow: from climate change to logistics issues to vaccine development. In Hamburg, we are therefore building a quantum computing ecosystem that networks the potentials from science and industry. This also includes attracting the brightest minds to our outstanding universities and world-leading research institutions. I am therefore particularly pleased to welcome Professor Martin Kliesch, an absolute expert in this field, to Hamburg University of Technology and extend a warm welcome to him in Hamburg!"
Andreas Timm-Giel, President of TU Hamburg: "I am very pleased that Professor Martin Kliesch has accepted the call. With his expertise and in close cooperation between research and industry, we can significantly expand our expertise on quantum computing. The cooperation of TU Hamburg with Fujitsu and Dataport strengthens the research and development potential in Hamburg. Together with the recently funded Hamburg Quantum Computing School (HQS), this will provide a significant boost to innovation: Previously unsolvable tasks from the engineering sciences and logistics will become solvable with the help of quantum computing for the benefit of people and society. We are developing the algorithms for quantum computing just as we are developing the technology of quantum computing and training specialists."
Joseph Reger, CTO Global Platform Business, Fujitsu Fellow and Chairman of the 'Fujitsu Distinguished Engineers' program: "With the appointment of Professor Martin Kliesch, we have taken the decisive step towards significantly expanded basic research - and thus towards further development of genuine quantum computing for practical applications. In this way, we are decisively advancing our strategy, which is of great importance both commercially and, above all, scientifically. Here, Martin Kliesch can also draw on and benefit from the work of our colleagues in Japan as well as collaborative partners. We look forward to the results that will be produced in Hamburg in the future and wish Professor Kliesch and his team every success."
About Fujitsu
Fujitsu is a global partner for Digital Transformation, with a mission to make the world more sustainable and foster trust in society through innovation. With around 124,000 employees, Fujitsu supports its customers in over 100 countries to solve some of humanity's biggest challenges. The service and solution portfolio for sustainable transformation is based on five key technologies: Computing, Networks, AI, Data & Security and Converging Technologies. In fiscal 2021 (ended March 31, 2022), Fujitsu Limited (TSE:6702), headquartered in Tokyo, Japan, achieved consolidated annual revenue of 3.6 trillion yen ($32 billion) and remains the leading digital services company in Japan in terms of market share. www.fujitsu.com

---
TUHH - Public Relations Office
Franziska Trede
E-Mail: franziska.trede@tuhh.de
Phone: +49 40 428 78 3458