10. Hamburger Bautag an der TUHH
Die Stiftung der Bauindustrie Hamburg zeichnet Diplom- und Bachelorarbeiten aus
12.06.2013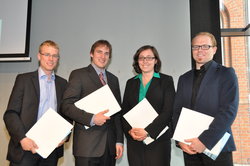 Heute findet der Hamburger Bautag an der TUHH statt. Der Bautag 2013 - mit dem inhaltlichen Schwerpunkt "Verbindungen" - hat sich zu einem bedeutenden Forum zwischen Wissenschaft und Praxis entwickelt, in dem Zukunftsperspektiven der Bauindustrie sowie ihre Auswirkung auf die universitäre Ausbildung von Bauingenieurinnen und Bauingenieuren diskutiert werden. Zur Eröffnung des Festakts richtet TUHH-Präsident Garabed Antranikian ein Grußwort an die Gäste im Hauptgebäude der Technischen Universität Hamburg (Gebäude A):
"Der inzwischen 10. Hamburger Bautag macht deutlich, dass er zum wichtigsten Diskussionsforum zwischen Wissenschaft und Praxis in Hamburg und darüber hinaus herangewachsen ist. Die langjährige und fruchtbare Zusammenarbeit der Bauindustrie in Hamburg und der Technischen Universität Hamburg fördert die Zukunftsperspektiven der Bauindustrie und insbesondere unseren Bauingenieurs-Nachwuchs. Ich freue mich über diesen Brückenschlag!"
Höhepunkt des Festaktes ist die Ehrung hervorragender Diplom- und Bachelorarbeiten durch die Stiftung der Bauindustrie Hamburg an TU-Absolventen. Die Verleihung der Förderpreise in einer Höhe von insgesamt 5000 Euro erfolgt durch Dr. Ing. Friedrich W. Oeser, Präsident des Stiftungsvorstands der Bauindustrie Hamburg.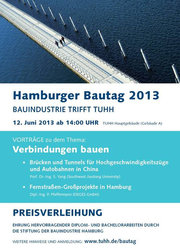 Constantin Möller und Christopher Wenz, Studenten des Studienganges "Bauingenieurwesenund Umwelttechnik - Diplom", erhalten den Preis über jeweils 1500 Euro für ihre mit der Note "Sehr gut" bewerteten Diplomarbeiten.
Diplomand Möller beschäftige sich in seiner Arbeit mit der Problematik der Rückgewinnung von Phosphor bei der hydrothermalen Karbonisierung von Klärschlamm ("Recovery of phosphorus by hydrothermal carbonization of sewage sludge").
 "Numerische Untersuchungen zur ramminduzierten Schallausbreitung in Wasser und Boden" lautet das Thema der ausgezeichneten Arbeit von Christopher Wenz.
Nina Knoefel und Christian Kock, Studierende des Studienganges "Bauingenieur- / Umweltingenieurwesen -Bachelor of Science", werden mit jeweils 1000 Euro für ihre mit Bestnoten absolvierten Bachelor-Abschlüsse innerhalb der Regelstudienzeit geehrt. Friedrich Oeser betont während der Preisverleihung, dass der Bachelor mittlerweile in der Praxis angekommen sei und aufgrund des hohen Bedarfs an Bauingenieuren für die Absolventen sehr gute Berufsaussichten bestünden.
Neben der Preisverleihung erwartet die Gäste des Bautags ein interessantes Vortragsprogramm zu herausragenden Bauvorhaben. Über Brücken und Tunnels für
 Hochgeschwindigkeitszüge
 und Autobahnen in China
 referiert Prof. Dr.-Ing. S. Yang
 von der Southwest Jiaotong University. Der Vortrag von
 Dipl.-Ing. P. Pfeffermann
 (DEGES GmbH) behandelt die Thematik "Fernstraßen-Großprojekte 
in Hamburg".
Den Festakt moderiert Prof. Dr. Viktor Sigrist, Vizepräsident Strukturentwicklung und Leiter des TUHH-Instituts für Massivbau.
Bereits um 14 Uhr öffnet die beliebte Firmenkontaktmesse ihre Türen für interessierte Studierende und Gäste. Mit dabei in diesem Jahr sind unter anderem: Hochtief, Züblin, Bilfinger, Strabag, BBI, WKConsult, die Hamburger Ingenieurkammer-Bau, die Behörde für Stadtentwicklung und Umwelt, der Bauindustrieverband Hamburg Schleswig-Holstein, IMS, BP Partner GmbH & Co. KG, GD Consult, HPC, Ernst & Sohn, OSJ Ingenieure sowie das Alumni & Career Center der TUHH.
---
TUHH - Public Relations Office
Martina Brinkmann
E-Mail: pressestelle@tuhh.de