TUHH goes music: Mit Piano und Blechbläsern wird das Audimax zum Konzertsaal
28.01.2013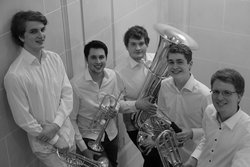 Das musikalische Angebot umfasst neben romantischen auch zeitgenössische Kompositionen.
Das zweite Konzert des Wintersemesters 2012/2013 am kommenden Mittwoch, 30. Januar 2013, verspricht ein Abend der Vielfalt zu werden. Neben der ukrainischen Pianistin Galina Gusachenko wird ab 19 :00 Uhr im Audimax I (Gebäude H), Schwarzenbergstraße 95, das Blechbläserensemble "QuintettAvanti" mit dem vollen Klang von zwei Trompeten, einem Horn, einer Tuba und einer Posaune für musikalische Unterhaltung sorgen.
Den ersten Teil des musikalischen Abends füllt Galina Gusachenko mit Werken der Komponisten Robert Schumann (1810-1856), Franz Schubert (1797-1828) und Frederic Chopin (1810-1849) aus. Auf die Arabesque op. 18 sowie "Bunte Blätter" op. 99 von Schumann folgen die Schubert-Sonate A-dur op. 120 D 664 (neu) mit dem Allegro moderato, Andante, Allegro und das Scherzo op. 30 von Frédéric Chopins.
Im Anschluss an die Pause geben fünf junge Männer aus Norddeutschland den Ton an. Es ist ein besonderes Anliegen des Ensembles QuarettAvanti, sich mit der Originalliteratur für Blechquintett vor allem im Bereich der Musik des 20. und 21. Jahrhunderts auseinander zu setzten. So erhalten die musikinteressierten Besucher des Konzertabends TUHH goes music einen zeitgenössischen Einblick in die Werke der Komponisten Malcolm Arnold (der Engländer erhielt unter anderem den Oscar für die Filmmusik "Die Brücke am Kwai"/1958), Anders Hillborg (Schweden), Axel Jørgensen (Dänemark), Jan Koetsier (Niederlande) und Astor Piazzolla, ein argentinischer Bandoneon-Spieler und Komponist. Er gilt als Begründer des Tango Nuevo, einer Weiterentwicklung des traditionellen Tango Argentino.
Das QuintettAvanti gründete sich 2008 aus Mitgliedern der Landesjugendorchester Niedersachsen, Hamburg und Bremen. Seine Mitglieder - Lukas Bieber, Anton Borderieux, Simen Fegran, Manuel Mischel und Konstantin Udert- sind Studenten an den Musikhochschulen in Hannover, Hamburg oder Rostock bei international renommierten Professoren. Das Ensemble hat sich über die Jahre ein Repertoire angeeignet, was einen breiten Bogen von der Renaissance- und der Barockmusik über die Romantik bis hin zu Kompositionen und Arrangements des 20. Jahrhunderts, der neuen Musik sowie Jazz, und den sogenannten "Cross Over" Bereich spannt. Mittlerweile ist es den Mitgliedern des Ensembles ein besonderes Anliegen sich mit der Originalliteratur für Blechquintett vor allem im Bereich der Musik des 20.und 21. Jahrhunderts auseinanderzusetzen. Dabei erhält das Quintett wichtige musikalische Impulse durch regelmäßige Zusammenarbeit mit namhaften Solisten wie Prof. Matthias Höfs oder Prof. Jonas Bylund.
Neben der Quintettarbeit sind die fünf Musiker auch Mitglieder in nationalen Jugendorchestern wie dem Bundesjugendorchester, dem Jungen Philharmonischen Orchester Niedersachsen und der jungen norddeutschen Philharmonie, sowie Bundespreisträger des Wettbewerbs "Jugend Musiziert". Das "QuintettAvanti" wurde 2012 1. Preisträger des internationalen Blechbläserwettbewerbs um den Preis der Europa-Stadt Passau.
Galina Gusachenko wurde 1992 in der Ukraine geboren. Bereits mit fünf Jahren besuchte sie die Kindermusikschule ihrer Heimatstadt Slawyansk (Ukraine).Von 2001 bis 2005 ging sie auf die Kharkow Musikschule (Ukraine) bei Prof. Garri Gelfgat. Danach studierte sie in Moskau bis 2011 in der Zentralen Spezialschule für Musik des Staatlichen Moskauer Konservatoriums.
Seit 2011 studiert sie in der Klasse von Prof. Evgenij Koroliov an der Hochschule für Musik und Theater Hamburg. Sie gewann bereits mehrere Preise bei internationalen Wettbewerben und Festivals, so 2010 den 2. Preis beim "International Piano Competition Adilia Alieva" in Frankreich, im Jahr 2009 den Grand Prix beim "Art of the 21st Century" in Kiev (Ukraine) und den 3. Preis beim "The International Piano Competition for Young Musicians" (Niederlande). Sie spielte bereits mit zahlreichen Orchestern in ihrer ukrainischen Heimat sowie in Russland, konzertiert mittlerweile auch in Deutschland, Finnland, Frankreich, Schweiz und den Niederlanden.
Das Konzert findet in Kooperation mit der Hochschule für Musik und Theater in Hamburg statt. Der Eintritt ist frei.
---
TUHH - Public Relations Office
Martina Brinkmann
E-Mail: pressestelle@tuhh.de